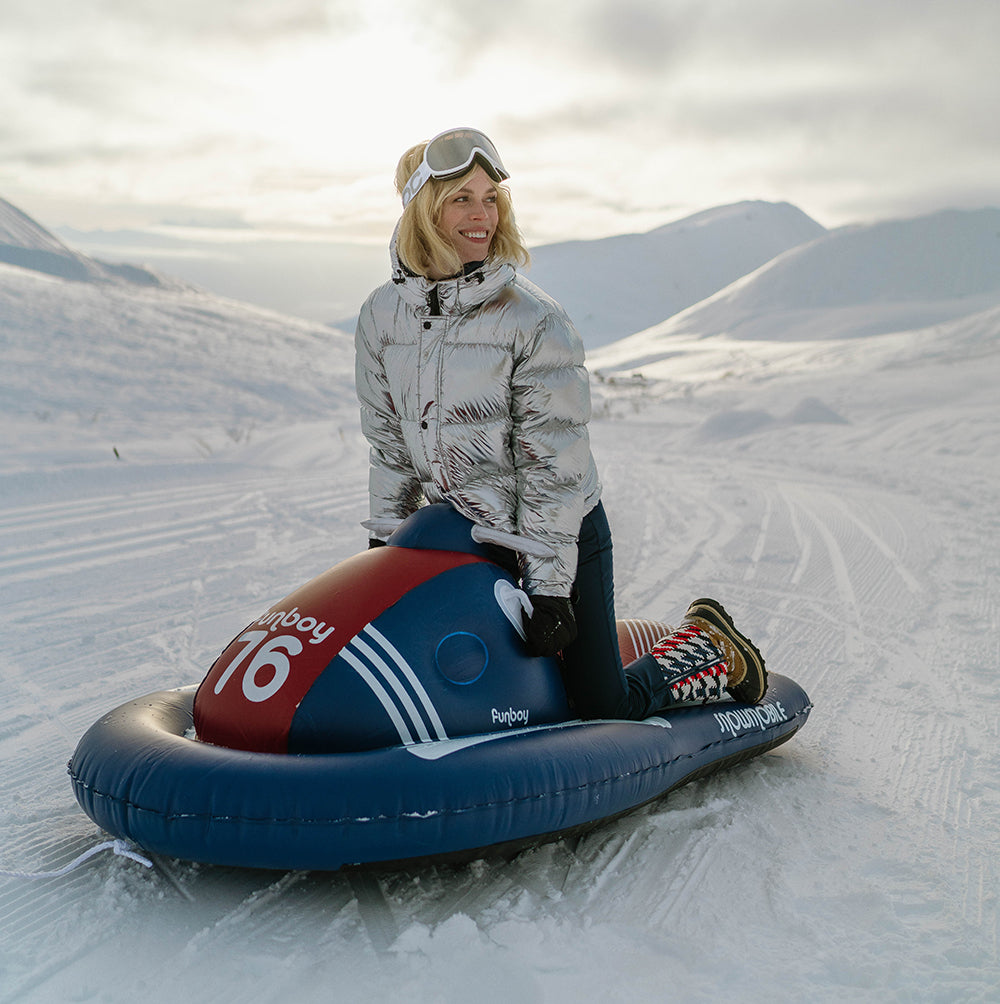 Heavy Duty Sleds Purchase Guide
The snow-capped mountains of theAlps tend to get a lot of eager travelers excited for all the winter adventures that await. With endless miles of trails that run through meadows and mountains, strapping on a snowboard or skis is the ultimate winter activity. Then again, this also means shelling out lots of dough for fees and rentals and all that expensive equipment - not to mention the hefty price tag that comes along with actually getting yourselfto the Alps.
So, what's the next best thing? Sleds!
All you need is a snowy hill and the wish to bring out the child in you. Some people will be happy enough sledding with the classic garbage can lid or a pizza box, but we're looking out for your safety and the sled's durability. So, with that in mind, here's a guide to purchasing the best heavy-duty sled for your next winter adventure.  
Styles of Sleds
Sledding really only requires a few inches of powder on the ground and a tight grip on a piece of cardboard. But for serious sledders looking for more than just an average ride, a heavy-duty sled is of the utmost importance. There are many different types of sleds on the market to choose from, and which one you pick can significantly influence your ride to the bottom of the hill. Before settling on a durable sled material, it's a good idea to choose a sled style. 
Toboggans
Ah, the classic toboggan! A simple sled with a flat-bottom, typically made of plastic and designed to fit multiple people, which makes them ideal for families or groups looking to have a shared ride down the hill. They can easily be controlled with a little shift in weight from side-to-side and have the potential to speed down the slopes if the snow conditions are right.
FUNBOY's new toboggan model comes in fun and funky prints and is an upgrade on the traditional toboggan model. Get ready to up the fun factor! 
Saucers
Shaped in a circle and able to comfortably fit one or two people, saucers are quick, slick, and offer a much faster descent than toboggans, with or without buffing on your mom's cooking spray! Due to their design, though, these popular sleds are not very easy to steer and offer little to no control. But if you have access to an open hill with no obstacles like trees or rocks in your path, a saucer is surely up your alley. 
Runner Sled
Are you looking for maximum control? Modern runner sleds feature two to four metal runners, which help make these sleds the best for steering capabilities. They are extremely fast and can typically fit one or two people for a thrilling ride down the hill. For those looking for a little extra legroom or the ability to weave in and out of obstacles, a runner sled is for you.
Snow Tubes
Snow tubes have become extremely popular over the years as the go-to sled for some winter fun. Their inflatable design offers a very comfortable ride and can come in shapes ranging from circular to toboggan to an inflatable snowmobile sled, to something else entirely. These sleds have a slick bottom and are ideal for those looking to zip down the hill in style. 
While there are many inflatable snow tubes on the market, all snow tubes are not created equal. Cheap Snow Tubes that are made from thin materials won't last more than a few runs. You'll want to make sure you purchase an inflatable snow tube from a reputable USA based company that's made from heavy duty cold weather vinyl that resists cuts, tears and punctures. FUNBOY's line of Snow Tubes goes above and beyond providing dual layer bottoms of super thick snow-rated vinyl that withstands temperatures up to -25 degrees and double welded seams to withstand almost anything! Additionally FUNBOY's Snow Tubes feature a flat bottom perfect for downhill sledding as compared to a standard donut hole tube where snow can pile up and stop you in your tracks.
Materials 
Once you have a sled style in mind, it's time to choose a durable material that will best suit your snow conditions. Be sure to take into account your terrain, snow depth, and the number of potential obstacles when deciding the snow sled's material. 
Plastic Sleds
Plastic can come in various styles and are a very popular choice among the kiddos for their lightweight and durable qualities. The material is slick and can be safely ridden over somewhat rough terrain with little to no damage. Plastic sleds are also a great choice because they are typically a budget-friendly option, but they definitely are at a pretty high risk of breaking. 
Foam Sleds
The boogie board of the sledding world! Foam sleds offer a much more cushioned ride than plastic sleds at close to the same cost. While these sleds might not be as fast as plastic, they are still very durable and can be ridden in similar terrain and snow conditions. However, depending on the thickness of your foam sled, you might feel some rocks on the way down, which can cause your bum to be a little sore the following day. 
Wooden Sleds
It used to be that only sleds with runners were made out of wood and had two metal runners. The good ones are extremely durable and can last forever. Add a bit of wax to the runners, and these babies could really fly! Today, many sleds are made out of wood, not just runners. And although they are pretty popular, their major downfall is that they tend to sink in soft snow and are virtually unusable until the sledding hill has been completely conditioned and compacted by other sledders. 
They are also generally much heavier and more challenging for the little ones to drag back up the hill. With that in mind, when it comes to durability, wooden sleds take the cake. If they are well taken care of, a wooden sled will last a lifetime. They are the best sled for going over compact snow, but sledders beware: Wooden sleds can sometimes weigh a ton, which can cause an injury if you plow into someone. Safety is always the most important thing so it's always a good idea to wear a helmet if you choose a wooden sled.
Inflatable Sleds & Tubes
The last material to consider for your sled is vinyl, which is used to manufacture inflatable sleds and tubes. Vinyl is exceptionally lightweight and can be a super comfortable option, as well as a fast and enjoyable ride to the bottom of the hill. This material has received quite a bit of hype in the sledding world because they are very easy to carry. 
Additionally, inflatable sleds come in a wide range of options, like Snowflake Snow Tubes and retro snowmobile sleds— these sleds are sure to get a ton of laughs and lots of 'likes' on your Instagram. If you're thinking about purchasing an inflatable sled for your next snowy adventure, be sure to buy from a reputable company like FUNBOY that uses a heavy-duty ultra-thick snow Vinyl material designed to withstand the frigid winter temperatures. If your inflatable sled isn't made of top-quality Vinyl material, like ours, you will likely rip or pop your sled within the first ride or two.
What Makes For Good Sledding Conditions? 
Anyone who has ever had the privilege to experience sledding knows that the apparent requirement for a fun outing is that there is snow— and a lot of it! Additionally, the weather, the type of snow, and terrain also play a crucial factor when deciding which type of durable sled is best and if the conditions are conducive to head out for some winter fun. We'll explain.
The Weather.Sledding is heavily dependent on the weather. If the temperature is warm enough to melt your snow fort, chances are the snow is too slushy and not suitable to sled down the slopes safely. In contrast, if the weather is too cold, it can make an existing sledding hill rock hard, and trust us - nothing hurts more than wiping out on a hill that is as hard as concrete! The ideal temperature for sledding is 29-30 degrees Fahrenheit. Be sure to purchase a durable sled like the FUNBOY Snowmobile Sled, which can withstand cold temperatures of 25 -degrees and below. 
Type of Snow. The type and consistency of snow also play a big part in choosing a sled. If the snow is heavy, wet, and sticky, which usually occurs when the sun is shining, grab any durable sled of your choice, as this is the best type of snow for sledding fun. If the snow is lighter, drier, and fluffier, which typically happens when it's rather chilly outside with little to no sunlight, it's a good idea to pack it down first to minimize friction and make your sledding hill more slippery. Plastic sleds and wooden sleds are durable; however, they tend to sink in this type of snow until it's been properly compacted and conditioned. Vinyl sleds are the best because they are super lightweight. 
Terrain. Sledding hills with thick and tall vegetation require a lot more snowflakes to pile up than open hills that have been mowed. If you want to sled down a hill with a lot of vegetation, avoid Vinyl sleds and opt for a heavy-duty toboggan or a wooden runner sled that won't rip or pop if you happen to glide over a rock or two. 
 Recap 
There are a ton of different sleds available on the market. However, with that being said, it's important to keep in mind that not all sleds are created equal! Be sure to pick the right style and material for your sled and take into account the weather, snow consistency, and the terrain. 
Follow our guide to purchasing a heavy-duty sled and enjoy many years of winter fun.  
Sources:
https://www.britannica.com/place/Alps
https://www.webmd.com/children/news/20100823/sledding-accidents-land-thousands-of-kids-in-er#1