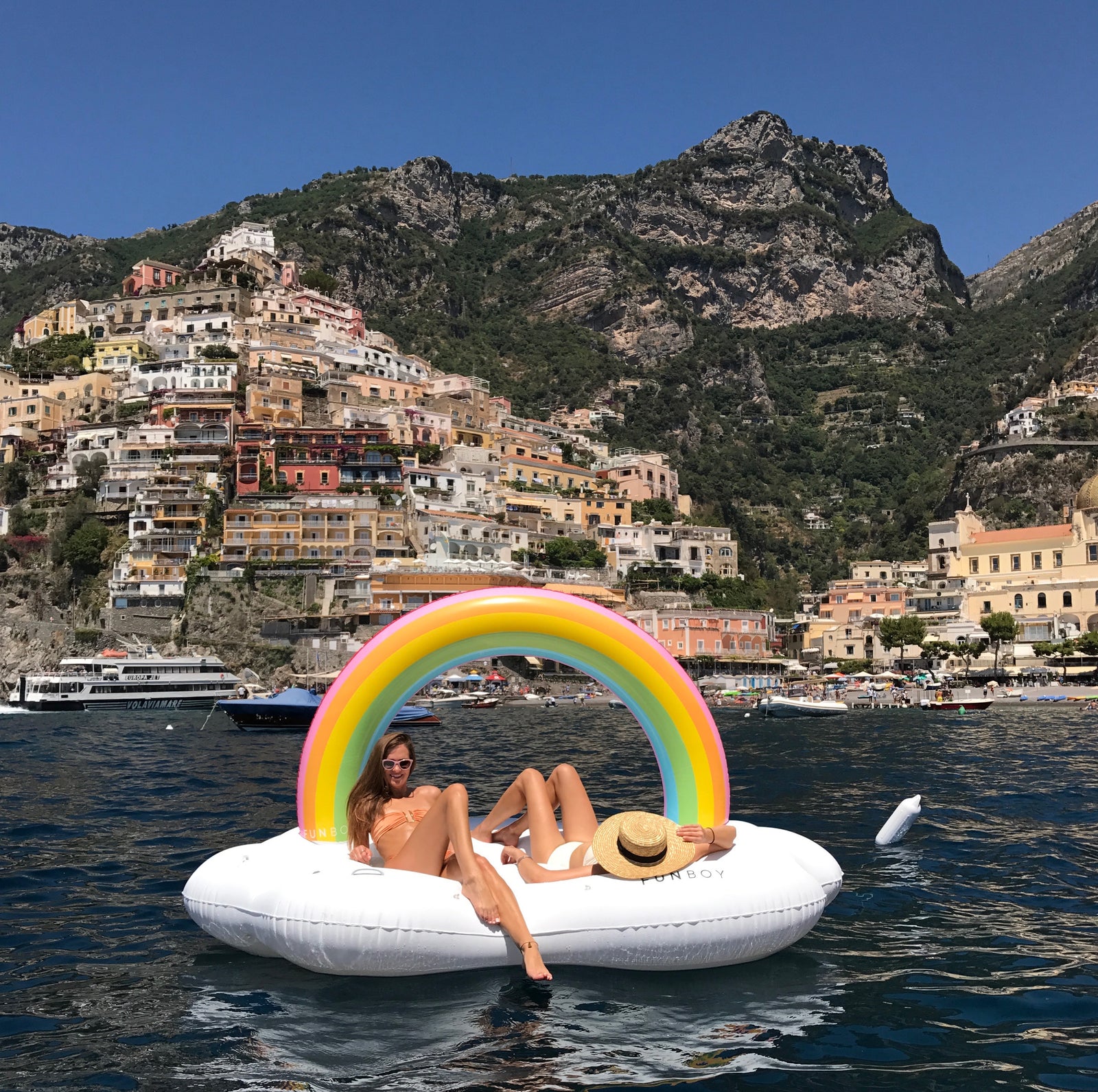 FUNBOY x Europe: Posted in Positano
TRAVEL: FUNBOY'S GUIDE TO POSTIANO
Ciao Bella! Your favorite float makers have been across the pond bringing FUNBOY to new places all summer long, and we're stoked to share the details on all our favorite destinations with you! First stop: Positano. 
This Italian paradise on the Amalfi coast is known for its vibrant hills stacked with brightly-colored villas, and with glittering mediterranean views around every corner, it's prime territory for our fun-loving floats. Pack your favorite FUNBOYS and get here ASAP -- Positano is calling.
Stay:
Villa Treville - This romantic collection of curated villas will have you swooning over its lush gardens, breathtaking views, and of course, glittering pools. Feel like royalty in one of their guest suites and check out their ethereal cocktail lounge for an aperol spritz, Grazie Mille! 
Le Sireneuse - Another FUNBOY Team favorite is Le Sireneuse. A luxe Positano tradition, this richly decorated hotel was first opened in 1951 and has retained all of its old world charm and more -- even inspiring its own swimwear line and fragrance. Enjoy an expansive suite here and you'll feel like you're the star of an Italian romance flick in no time flat. 
Eat:
Le Sponda - Chef Gennaro Russo heads this romantic, Michelin-starred restaurant in Le Sireneuse hotel, where the dishes are as beautiful as the terrace dining space that's illuminated by hundreds of candles each night.
Zass - Located in the Hotel il San Pietro, this inventive restaurant sources many of its ingredients from its own gardens and offers artistic interpretations of classic Italian fare.
Max - Eclectic and warm, this in-town spot offers high end dining in their cozy art-filled dining room, peaceful garden, and even their candlelit wine cellar. Can't get enough? Take one of Max's daily cooking classes and learn how to bring your favorite tastes of Positano back home -- if you ever want to leave, of course.
Hang: 
Treville Beach Club - An outpost of Villa Treville, this beachside oasis offers access to Positano's famous crystal blue waters and a perfect place to launch that brand-new FUNBOY. Reserve your own slice of heaven on this tiny private beach, go for a relaxing float around the cove, or eat at Da Adolfo, the club's own restaurant. 
Of course, if you're more of a seafarer, grab a bottle of our FUNBOY Rosé and take a cruise around the coastline. Saluti!
Stay tuned for the next destination on FUNBOY's ultimate European takeover, and keep tagging us in all your favorite float-worthy destination pics!
Cheers,
Team FUNBOY