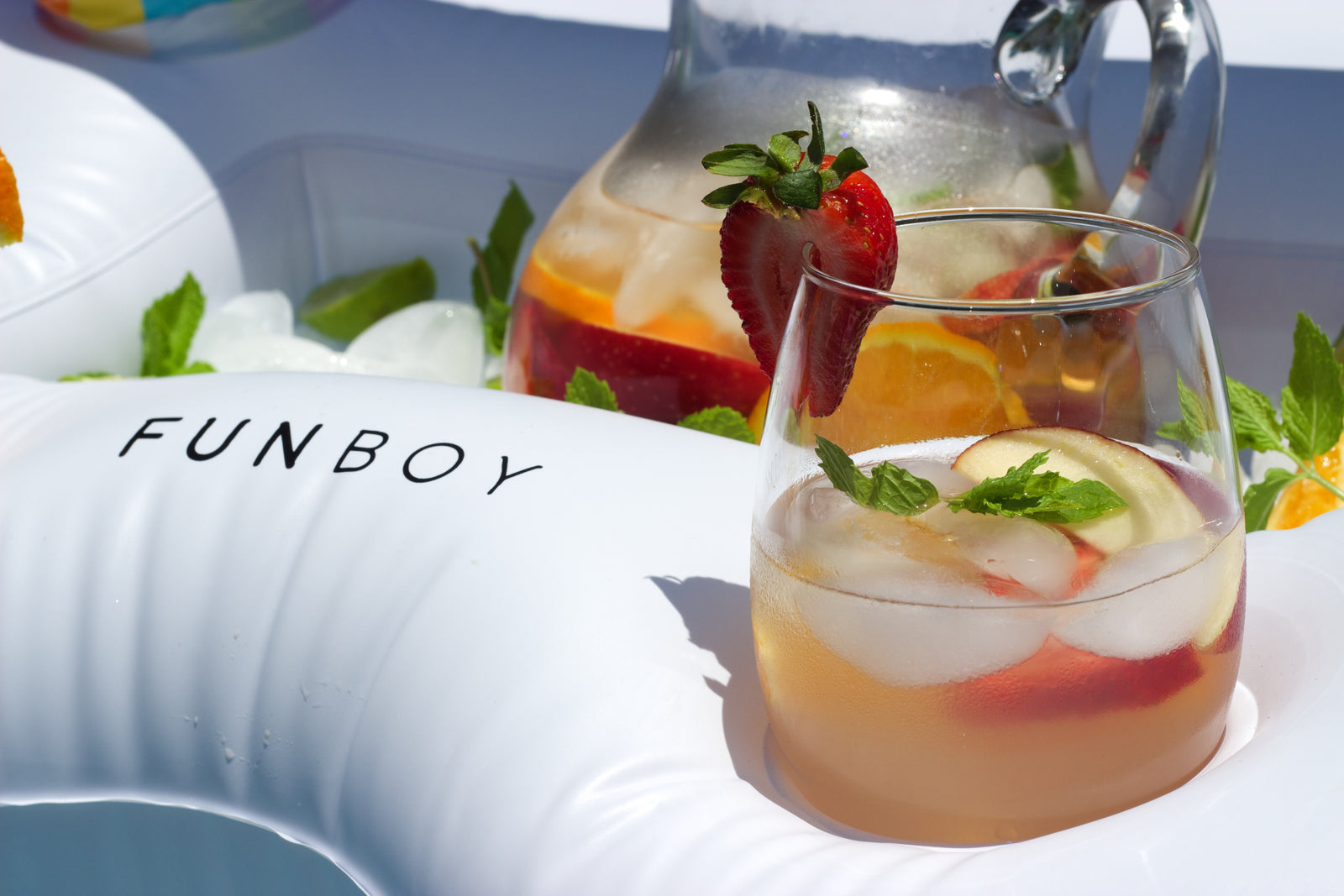 3 Fun Summer Cocktails to Go With Your Pool Float
You've got your floats, you've got your friends, and you're almost set to kick back all summer... but first, you're gonna need some precious liquid cargo to fill all those floating drink holders. We've got you covered with three summer cocktail recipes tailor-made for each of our floating drink holders. Wine & cheese? More like tan lines & summer breeze.
Ages 21+ only.
The Rainbow Cloud Floating Bar: Rainbow Sangria
This dream of a floating bar was made for a crowd, and so was this Rainbow White Sangria - serve together for maximum color cacophony.
1 bottle of the white wine of your choice
16 oz. lemonade
2-3 shots of triple sec
1 orange, sliced
1/2 red apple, sliced
2 kiwis, sliced
4 strawberries, sliced
Mix white wine, lemonade, and triple sec together in a large pitcher, then add sliced fruit. Refrigerate for 30 mins before serving over ice in your Rainbow Cloud Floating bar for full-spectrum fruity flavor.
The Lip Drink Holder: The Venice Mule 
The original Mule originated in the 1940s, but we're paying a fresh homage to this vintage drink as well as our LA roots in honor of another instant classic: a perfect red lip. 
5 oz ginger kombucha
2 oz vodka
1/2 oz lime juice
mint leaves & lime slices to garnish
Fill your glass of choice with crushed ice, then pour in the lime juice, followed by the vodka, and topped off with ginger kombucha. Garnish with mint leaves and a slice or two of lime and set afloat in a Lip Drink Holder for a refreshing SoCal spin on the drink you know and love. 
The Rainbow Unicorn Drink Holder: The Pink Pony
You don't sweat. You sparkle. You already know you're one of a kind and have the Unicorn Drink Holder to prove it, but to make things really magical, mix up this perfectly pink cocktail with our exclusive FUNBOY x Del Dotto Rosé. 
6 oz FUNBOY x Del Dotto Rosé
4 oz muddled watermelon (chop watermelon into small cubes, then mash in a glass or bowl with the back of a spoon)
1.5 oz Aperol
Optional: mint leaves & mini watermelon slices to garnish
 Mix muddled watermelon and aperol in a glass, then top with rosé. Add ice and stir. Garnish with mint and watermelon and float in a Rainbow Unicorn Drink Holder for a poolside experience so sweet, it's practically legendary.
With these matches made in heaven, you'll turn any pool into cloud 9. Now get mixing, FUNBOYs - the party's only just begun. 
Cheers,
The FUNBOY Team