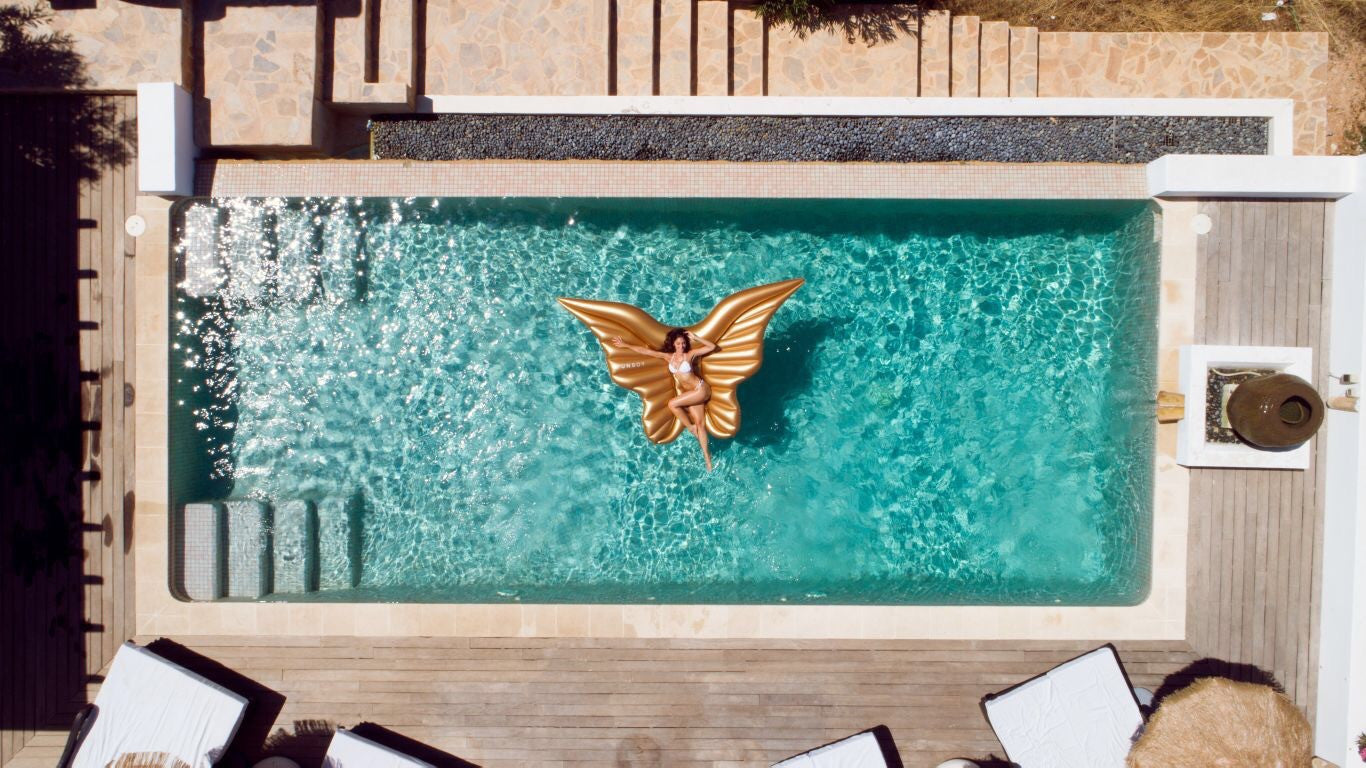 FUNBOY x Europe: Ibiza Dreaming
TRAVEL: FUNBOY'S GUIDE TO IBIZA

Last but certainly not least on the FUNBOY Team's summer tour of Europe was Ibiza, the magical Spanish island with unreal beaches rivaled only by its legendary nightlife. The island is brimming with creativity, magic, music and FUNBOY perfect beaches. Check out our top picks for the island below and we'll meet you there next year!  
Stay:
For the ultimate island experience, rent one of the many luxe villas available on the island. FUNBOY took over Villa Uma and made it the ultimate float destination -- just look at the view from the pool!
You can even book it for yourself here: 
Correos, apartado 960, 07830 sant josep de Sa Talaia, Ibiza, Spain
EC Villas — Luxury Villas & Concierge
UK Freephone:0800 133 7416  |  ES:+34 971 307 817  |  www.ecvillas.com
Mobile:+34 608 864 965  |  emma@ecvillas.com
Beach Clubs:
Just in case you ever want to leave your villa, check out some of these FUNBOY-approved beach clubs for a day of sun and sand:
El Chiringuito Ibiza - Steaks and seafood delivered right to your reserved beach bed? Count us in -- just don't forget the cocktails.
Experimental Beach - Serving up a little something for everyone on a perfectly turquoise stretch of beach, Experimental seems to have the perfect beach day formula nailed down. Bonus points: arrive at 7:30pm for a gorgeous sunset you won't want to miss.
Jockey Club - Between breakfasts on the beach, afternoons at the Fruit Bar, and evenings  of cocktail-fueled dancing, Jockey Club has you covered around the clock. 
Amante Beach Club - Looking to relax after a long night out? Amante, on top of beach lounging and beautifully fresh food, offers yoga classes, movie nights, and pressed juices to help you stay on top of your vacation game.
Sunset Ashram - This unique club on Cala Conta Beach offers the best sunset vibes, with beautiful DJ's spinning Ibizian beats in unison with the most spectacular sunsets in all of Ibiza.
Los Enamorados - A restaurant, beach bar, boutique hotel, and bazaar all collide to form Los Enamorados, a truly unique spot on the northern part of island. Relax all day on the beach, shop the club's collection of curated goods, or stay the night in a boho-cool suite.
Take a Day Trip!
If you're feeling adventurous, rent a boat and take quick cruise to Formentera, a gorgeous island located 30 minutes from Ibiza. Take in the incredible beaches and stunningly blue waters for yourself, and make a pit stop at Beso Beach for lunch. You can thank us later. 
Eat:
Can Domingo - As you sit at a table nestled underneath olive and fruit trees in Can Domingo's own organic garden, sample some of the island's most enchanting fare through a terrain-focused Italian menu. 
Cala Bonita - This DJ-hosting restaurant features a full lunch as well as tapas on a gorgeous all-wood patio. They'll even bring the service to you as you sit on the nearby beach or your docked yacht (our FUNBOY Yacht counts). 
The Giri Cafe - This sustainability-focused San Juan spot serves up fresh, local, seasonal dishes, picking many of its ingredients directly from the restaurant's adjacent garden.
La Paloma -  This locally-loved spot dishes up Italian favorites adored by locals and travelers alike, featuring a menu tailored to what is available at its peak on the island and through select imports from Italy. 
El Portalon - A new restaurant in Old Town, El Portalon feels like it's been dishing up its locally sourced produce, baked goods, honey, and cheeses for years -- and we're sure it will continue to do so for many years to come as it was a deliciously memorable meal.
Lio - Prepare to be dazzled -- when night falls, this restaurant turns into a fully-fledged cabaret with dancers and performers that light up the room with their fancy footwork, smooth moves, and glittering costumes.

Nightlife: 
Ibiza is known for its endless supply of nightlife, from world famous clubs to locally-loved bars, but wherever you go, there are sure to be A-list DJs -- plan your night around your favorites, or just see how many you sets you can catch before sunrise.
Pacha - Ibiza's most iconic nightclub. A five-stage must-see for any Ibiza vacation, this is where you'll catch some of the world's top artists and most lavish all-out dance parties.
Paradise Lost -A true local hangout where you can sip some of the best cocktails on the island, as long as you're willing to look -- find it on a back street in Old Town Ibiza.
Pikes - Check out this boutique hotel where George Michael's Club Tropicana music video was filmed, and stay for one of Pikes' unique, memorable parties featuring incredible DJs and endless entertainment.
That's a wrap for FUNBOY x Europe 2017! Keep tagging us in your summer travels with FUNBOY and comment your favorite float-worthy destination below -- we just might end up there next season! (With a fleet of FUNBOY floats, of course).
Lots of love,
The FUNBOY Team