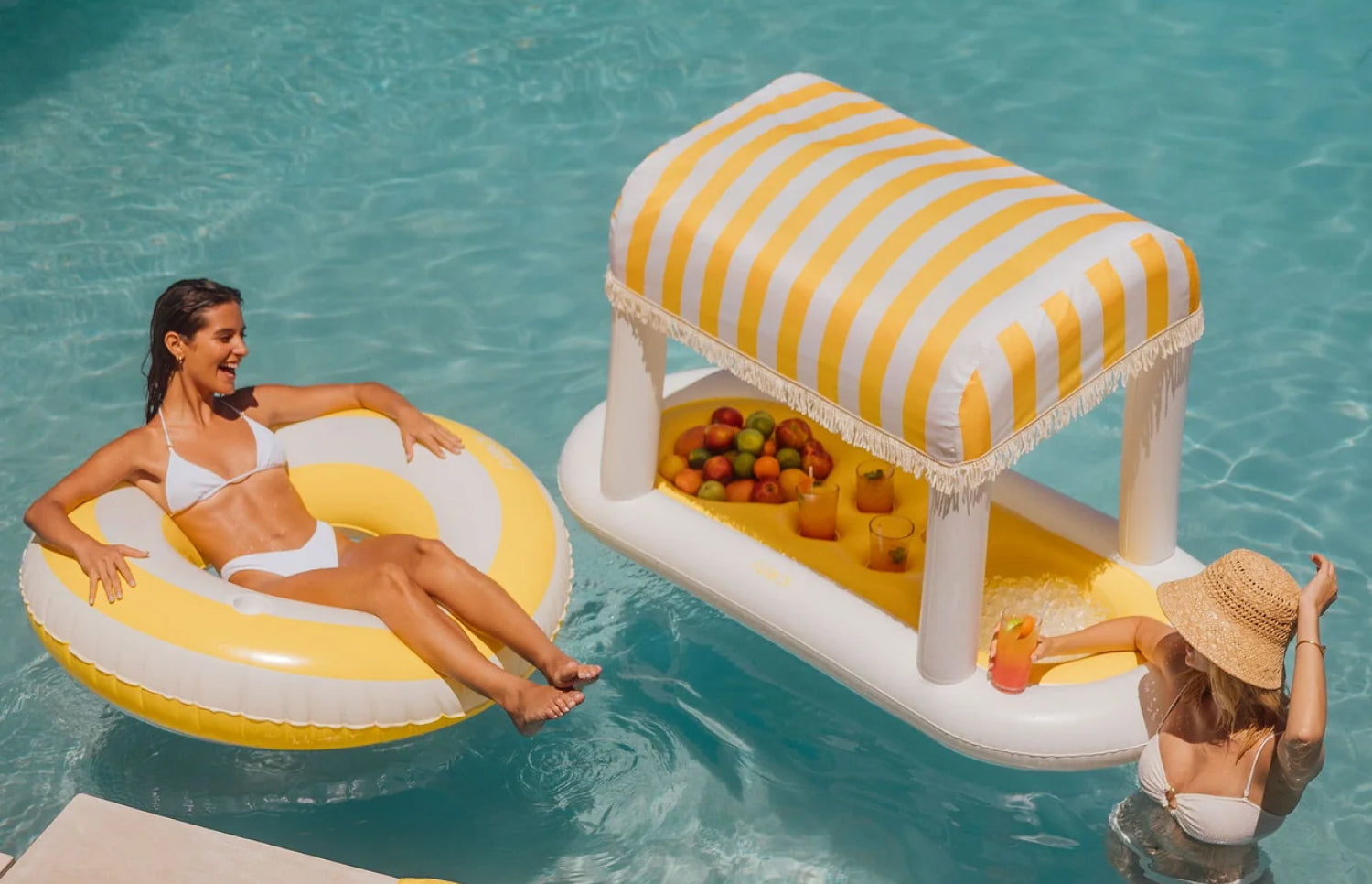 9 Fun Graduation Party Ideas Everyone Will Enjoy
Graduation is just around the corner, and what better way to celebrate your achievements than with a fun graduation party? Whether you just finished high school, college, or even grad school, this is a momentous occasion that deserves a celebration.
If you're looking for fun and unique ways to celebrate with your friends and family, then look no further! In this post, we'll share some of the most exciting graduation party ideas that are sure to make your celebration one for the books.
1. Have Fun With a Theme
First things first — pick a theme. Having a theme will go a long way in making your party more exciting and interesting. Plus, it will give you some direction when it comes to graduation party decorations, food ideas, and activities.
Although there are many, here are some of our favorite themes to consider:
"Oh, the Places You'll Go" 
Bring your guests along for the ride with an Oh, the Places You'll Go-themed party. Create a colorful hot air balloon centerpiece, and serve cocktails with umbrellas to make the guests feel like they are soaring through the clouds. 
Decorate the venue with maps, globes, and travel-themed graduation banners with famous quotes from Dr. Seuss's beloved book. For food, serve international dishes that represent the vibrant cultures and cuisines that the graduate will encounter on their journey. It's an imaginative and lively theme that everyone will remember.
"Hats Off to the Grad!"
One of the most symbolic traditions of graduation is the mortarboard hat, so why not honor that in your party theme? A "Hats off to the Grad!" theme is a fun and playful idea; you can decorate the area with graduation caps and banners. (Not to mention, caps and banners are a lot easier to clean up than confetti). 
In addition, personalized menus with your graduate's major, favorite foods, and drinks are perfect for showing everyone how proud of them you are. Games like Pin the Tassel on the Cap or Guess the Yearbook Photo are amusing and engage the guests. It's an affordable and creative way to celebrate the graduates.
"The Graduate's Future" 
A "The Graduate's Future" party theme is an emotional and exciting way to look forward to the future. Make photo collages showcasing the graduate's childhood and school memories and encourage guests to write, predicting the graduate's future achievements or dreams for a fun touch.
For decor, elegant black and white wall hangings with inspiring quotes or family photographs can create a sense of sophistication. Regarding food, create a sophisticated menu with elegant hors d'oeuvres, champagne, and other party-friendly drinks. It's a meaningful and sophisticated way to celebrate your graduate's bright future.
"Tropical Island Vacation"
School's out for summer (and potentially forever for grads)! If you're looking for something totally unique, then a tropical pool party is in order. 
Set up a dessert table with mini cupcakes, mason jar cakes, and bowls of candy. All this party food will go over a beach towel instead of a tablecloth, naturally. Get crafty and make your own cupcake toppers by sticking some nostalgic plastic ring toppers in the frosting. 
If you're lucky enough to have a pool, throw a tropical-inspired pool party complete with beach balls and a Pink Flamingo float (or four). Whip up some piña coladas and set them afloat for partygoers in the Floating Cabana Bar.
Then when the partying is winding down, everyone can relax on their pink and white striped towels. 
2. Food and Drinks Galore
No matter what theme you choose for the party, plenty of food and drinks are key to keeping your guests happy. Consider setting up a dessert bar with an array of scrumptious treats and homemade goodies. Flavored drinks like lemonade or soda in novelty cups are crowd-pleasers.
Make your party memorable by serving traditional dishes representing the graduation milestone. Take your high school graduation party idea to the next level by serving dishes that remind the guests of their old days in school, such as peanut butter and jelly sandwiches or mac and cheese.
Throwing a party for a college grad? Serve dishes like pizza, burgers, tacos, or even (upscale) ramen to remind everyone of their college days. 
3. Put Together a Guest Book Poster
This is a great way to get party guests involved in the graduation celebration. Create a poster board with your graduate's photo, accomplishments, and future plans using their school colors. Let the party guests write special messages and well wishes for the graduate.
At the end of the night, your graduate will have a memorable keepsake filled with heartfelt notes from their closest friends and family. Simple but sweet.
4. Set the Mood with Music
Create a hopping atmosphere with a well-curated playlist. You can play the graduate's favorite songs or a mix of upbeat music to keep the mood cheerful and positive.
If you're looking for something more special, hire a DJ or even a live band to really get the party started. Bring out essentials like a karaoke machine, hula hoops, and other items to create an energetic atmosphere.
5. Capture Memories With a DIY Photobooth
Whether you're celebrating a high school graduation or a college graduation, a DIY photo booth is a perfect addition to any grad party.
Create a photo backdrop using streamers, balloons, or even a chalkboard with a congratulatory message.
Set up a camera on a tripod or use your smartphone, and let the partygoers take as many fun graduation photos as they want. 
Include some fun props, such as graduation caps, glasses, or signs to use in the photos.
Make the memories last even longer by

 

handing out blank scrapbooks

 

(complete with decorating supplies) so the guests can make their own interpretations of yearbooks. 
6. Make It a Graduation Gift Exchange
If you're looking for a unique way to honor your grad, why not host a graduation gift exchange? All you need is for each guest to bring a gift for the grad, and then everyone takes turns picking a gift.
To make it even more exciting, you can set up a "Price Is Right"-style game where each guest gets two chances to guess the price of the gifts. Whoever guesses closest to the actual price gets to pick the next gift.
Pro Tip: Not sure where to find an awesome gift? Check out our inventory of luxe pool floats — from inflatable golf carts to pink swans and tubes, we have something for everyone. 
7. Create a Candy Bar
Who doesn't love candy? A candy bar is a great way to add some sweetness to the occasion. Have an assortment of candies, chocolates, and other treats in jars or DIY-decorated containers.
Place them on a table and let the partygoers fill up their own treat bags with whatever they like. This is an easy and fun way to please everyone's sweet tooth.
8. Play Fun Games
Consider setting up some awesome games to add an extra element of fun to your graduation party. Play classic board games like Monopoly or Scrabble, or go totally unique and organize a balloon-popping competition. Are you putting together an outdoor graduation party? Include outdoor games like croquet, badminton, or horseshoes. 
Here are some additional party games to consider:
Name That Tune:

 

Play popular songs and have the partygoers guess what they are.
Guess the Diploma:

 

Name a celebrity and ask participants to get what degree they earned and from where. 
Ice Cream Decorating Contest:

 

Part dessert, party food — 100% awesome. 
Dance-Off:

 

Get everyone on their feet and have a dance competition.
Movie Quotes:

 

Play sound bites from popular movies and have guests guess the film.
Scavenger Hunt:

 

Hide items around the party venue and let guests search for them.
Whatever games you decide to play, have lots of prizes on hand to give out to the winners. 
9. Send Everyone Home With Party Favors
At the end of the night, it's always nice to thank your guests for coming. Send everyone home with a special memento that they can cherish.
This is a chance to flex your creativity: If the party is celebrating a high school graduating class, send everyone home with something for their dorm room (hello, string lights) or a professionally stylish pen set enraged with their graduation year. College grads might appreciate small potted succulents or high-end soy candles — two things you can't really enjoy in a dorm room.
Lastly, have a Polaroid camera on hand and let guests take home their own photos as keepsakes. If you're looking for something more creative, organize a custom T-shirt printing station where guests can create their own shirts. 
Hooray for the Big Day: A Diploma in Party Planning
Celebrate your grad's accomplishments with a truly unforgettable party. Whether you opt for a Malibu Barbie theme or a drool-worthy dessert bar, it's sure to be an event to remember. With these ideas, you'll be able to create the perfect graduation bash for your grad. So cheers to them and all their hard work — and have an amazing celebration!
Here at FUNBOY, we know how important it is to recognize a graduate's achievements and make their special day extra memorable. That's why we've got you covered with the coolest floats around to kick it poolside. From pink lips to the iconic disco dome, we've got something for everyone!
Sources:
Tips on how to throw your ideal graduation party | Ka Leo O Hawai'i 
Birthday Cake In A Jar Recipe | Southern Living
How to Make a Scrapbook Page | The Spruce
Ways to Make Instant Ramen Taste Even Better From Chefs | Insider