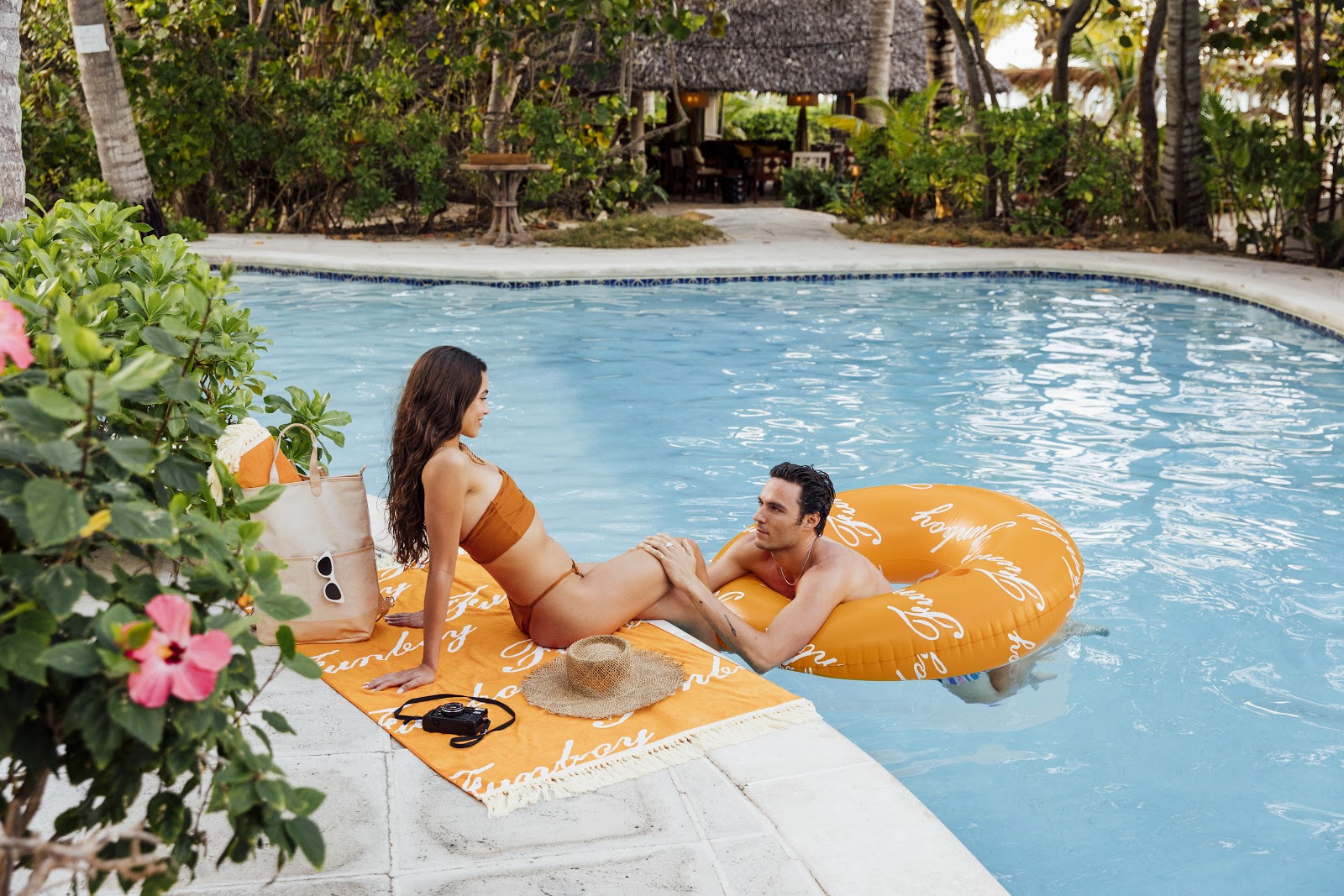 How To Blow Up Pool Floats: 6 Ways To Make It Easier
You basically can't escape a weekend on social media without seeing someone floating on a giant flamingo or unicorn -- and for good reason. After a long week stuck indoors with stuffy air conditioning, there's arguably nothing better than slipping into your favorite swimsuit and relaxing on a super comfortable floaty. However, if you ask us, theone thing that we could totally live without is having to actually blow up our pool floats --ugh!
Picture this: You finally get to the pool after a long, tedious week at the office. You slather on some good ol' SPF, pour yourself a glass of bubbly, and pull your pool float out of storage -- but wait; you have to blow it up first. You take a deep breath, wrap your lips around the valve and begin to blow air into your enormous inflatable butterfly pool float. But by the time you're done -- your bubbly's gone flat, the suns' retreated behind the clouds, and you are completely out of breath and ready for snoozeville. 
Rather than wasting hours trying to blow up your pool float, give your lungs a break and try one of our six ways to make it easier.
1. Use A Electric Pump
Hands down, the easiest way to blow up an inflatable float is to use an electric pump. We love FUNBOY's Pump because it's low pressure and high volume and can inflate even the largest floats in under three minutes. Yep. You read that right:three minutes. Gone are the days of relying on lung power to blow up our floaties, which often took an hour at the least. With FUNBOY's super pump, you will be floating in no time. 
Not sure how to use a pump? Here's how: 
Plug the electric air pump into any standard home outlet (110-120V)

Use an extension cord if necessary

Using the correct attachment, hook the air pump up to your float via the valve, making sure it is fully inserted

Turn on your electric air pump and fill all air chambers of the inflatable

Fully close all air chambers and ensure the air valves are depressed into the float
Important Note:Inflate your float slowly until most of the wrinkles in the float material are gone. Keep in mind that there will always besome wrinkles, so don't try to over-inflate in an attempt to smooth them out.
Extra Important Note:Don't use an electric pump anywhere near water, as there's a major electric shock hazard. We know you're excited to get into the pool, but hold your horses for just a minute. 
You should also never let kids operate an electric pump, for safety reasons. Make sure you unplug it after use, and you should be good to go! 
2. Use A Hairdryer and Water Bottle
This is a fun trick for all those crafty floaters out there. A hairdryer is another great way to blow up your pool float, but since it doesn't have a nozzle that fits snugly into the plug, youwould need to hold it in place, which can be a little tricky. However, if you have a water bottle, some scissors, and duct tape, you can make this method a little easier. 
All you have to do is cut off the top of a plastic water bottle and tape it to the end of a hairdryer using a little bit of duct tape. Make sure to use the small nozzle side of the water bottle. The whole idea here is to funnel all the air from the blow dryer through the nozzle (the part you drink from) of a water bottle and into the inflatable. 
Once the dryer is fitted with your new DIY water bottle attachment, press it up against the air inlet valve on the pool float and turn on the hairdryer. 
Important Notes:Prior to turning on the hairdryer, it is CRUCIAL that you set it to COLD MODE because the heat mode could damage the inflatable pool material, and if you damage the material, you can kiss your afternoon of relaxation goodbye. 
3. Use A Shop-Vac 
Another great way to blow up your pool floats is with a shop vac -- simply set the shop vac onblow and push the hose up to the air inlet valve. But if you don't alreadyown a shop-vac, don't purchase one for the sheer purpose of blowing up a pool float because they can get a little pricey, and The Pump is much more affordable!
If you do go for a shop-vac, just be verrrrry careful not to overinflate your float, considering that a shop-vac has some major pressure. That wouldn't end so well for your awesome float! 
4. Use A Leaf Blower 
Do you have a leaf blower? If so, you can use it to blow up your pool float, but it's kind of tricky and requires two people; one person to hold the leaf blower and the other person to hold the float. 
The same warning applies here as for the shop-vac—watch out for overinflating! If you want to stay on the safe side, you're probably better off just using a pump that was made for this purpose. 
5. Use A Hand Pump, Foot Pump, Or Bicycle Pump
And our last float-pumping method on the list is enlisting help from an old school hand pump, foot pump, or bicycle pump. The main benefit of going this route is that you don't need electricity and can blow up your favorite pool floaties just about anywhere. However, we're not going to lie; manually pumping can be pretty tedious and tire your arms out quickly, so be sure to recruit the help of a buddy to take turns pumping. 
And there you have it, ladies and gents, six ways to blow up your pool floats! But before you leave to find the nearest hair dryer or air pump near you, check out these super cool pool floats to make your poolside bash one to remember:

Pink Retro Phone Float
Ring, ring --summer's calling! Totally 90's and perfectly pink, FUNBOY's Pink Retro Phone Float is so cool, you'll def be getting tons of summer rings when you float with these digits. AS IF you need to know more, this super float even has a cup holder and a built-in headrest, so you'll be straight chillin'. 

Clear Rainbow Chaise Lounger
Want a truly unique floating experience? Check out FUNBOY's Clear Rainbow Chaise Lounger -- the ultimate floating chaise lounger chair. This unique tri-color clear design creates a fanciful ombre effect on the water that is nothing short of stunning. 
The extra-thick, smooth, transparent material allows you to see through the chair into the water -- creating gorgeous color hues that change through the day depending on the light. And the best part? You can use it in the water and on land!

Pink Banana Tube Float
Go BANANAS this summer and sink your teeth into FUNBOY's wildly fun Pink Banana Tube Float. Big bright bananas adorn a pastel pink tube float -- talk about some serious vibes! This oversized 50" design is deliciously comfortable and even comes with a reinforced cup holder to keep your bubbly in place while you float. 

Giant Red Lips Pool Float
This summer, kiss and tell --or don't! --with FUNBOY's Giant Red Lips Pool Float. Finally, a summer fling that won't let you down -- just remember, no biting allowed! We love this massive design because it's perfect for two friends to comfortably float for some serious poolside relaxation or, er, flirtation. Wink wink. 
A Final Word 
Don't waste your summer spending hours trying to blow up your pool floats via lung power. Try one of our six methods listed above, and you'll be floating in no time. And the best part? You won't get light-headed or go blue in the face from blowing!
For the best pool floats on the market, check out FUNBOY -- the leader in FUN pool floats. 
Sources:
Summer: The Warmest Season | LiveScience
Swans. Pineapples. Angel wings. How the novelty pool float conquered Instagram | Washington Post.
Ask the Expert: Does a High SPF Protect My Skin Better? | Skincancer.org.