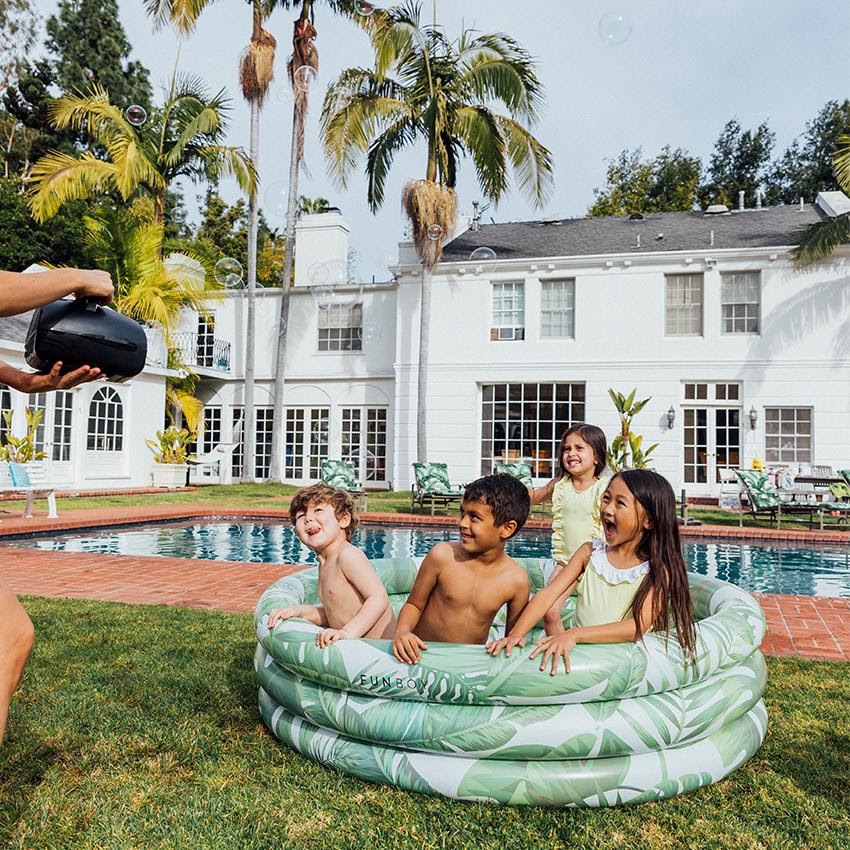 How Much Water Should You Put In A Kiddie Pool?
You really don't need too much for a day of fun in the sun -- a juicy read, some SPF 30+, and a (literal) watering hole to cool off in. Though getting our fun in the sun has been put a bit on pause, thanks to the winter months and a little thing called Covid-19, we're starting to get a glimmer of hope as it starts to warm up. 
Rather than sit in your lounge chair sweating from head to toe or dashing in and out of the air-conditioned house every time you need a break from those harsh UV rays, simply invest in a kiddie pool. 
We know what you're thinking,aren't kiddie pools for, well, the kiddies?And while you're not totally wrong there, the truth is that adults have been finding ways to utilize these versatile pools over the last few years, and we've got to say: They are definitely no longer meantjust for the little ones. In fact, if we were like Oprah and had a list of favorite things, kiddie pools would certainly be at the top!
If you're thinking about getting one of these awesome kiddie pools (which we totally recommended), you might be wondering: How much water should you put in it? And while there is no right or wrong answer, there is a perfect amount for ultimate relaxation. Read on to learn more!
Everything You Need To Know About Kiddie Pools
2020 was a crazy year for everyone. And while many say it was the worst year ever, the truth is that it pushed a lot of us to get creative and think outside of the box. With public pools and beaches closed, we had to look for innovative ways to keep busy and get our daily dose of vitamin D. One of those ways that took off by storm was the classic kiddie pool -- but we're not talking about those old school plastic blue kiddie pools that almost every family owned in the '90s -- were talkinginflatable kiddie pools. 
Inflatable kiddie pools are usually made of soft-touch vinyl and come in a ton of fun shapes, prints, and sizes. For instance, we love FUNBOY's Tropical Palm Kiddie Pool, which is adorned with vibrant green palms to transport you to a tropical paradise. Its oversized 66' diameter and 18' height is the perfect size for two friends to relax comfortably. We also can't get enough of FUNBOY's beautiful Clear Pink Heart Inflatable Pool,which is nothing short of romantic. Fall in love all over again this summer with this oversized design that comfortably fits two adults or multiple kiddos. 
Other than being the perfect way to cool off on a hot day, kiddie pools offer a ton of awesome benefits that you've probably never even thought of:
You can take it to the beach. 
Have you ever thought about bringing a kiddie pool to the beach? No? Well, you should. Bringing your inflatable pool to the ocean is an excellent way to soak up the sun's rays while still enjoying the salty air. Oh, and the best part? No seaweed. 
Plus, if you happen to have little monsters running around, a kiddie pool is a perfect -- and safe -- way to keep them cool. Just toss in a few beach toys, and they'll be entertained for hours on end. Guaranteed.
You can make a DIY ball pit.
With the pandemic sweeping over the nation, parents have had to get crafty to think of ways to keep their little ones entertained. And one of those ways that have been a saving grace, keeping the kiddos busy for hours, is simply converting your kiddie pool into a DIY ball pit. Yup. You read that right -- if you have a kiddie pool, all you need are a few ball pit balls, and voila; you just created simple entertainment that is sure to leave the kids smiling from ear to ear. 
You don't have to share your pool with other people's kids.
Okay, so maybe you're not akid person -- that's totally okay! The beauty of owning a kiddie pool is that you can use it in the privacy of your own home. You don't have to share it with any screaming tots or anyone really if you don't want to. Forget swimming in over-crowded pools, making it difficult to wind down-- get yourself a FUNBOY kiddie pool and enjoy a day of ultimate relaxation --just for one. 
It can fit in small spaces.
Arguably one of the best benefits of owning a kiddie pool is that it can fit in small spaces. So if you happen to live somewhere that doesn't have room for a massive swimming pool but still want to take a dip from time to time, you need one of these super versatile pools. 
FUNBOY's Tropical Palm Kiddie Pool is 66" in diameter and only 18" tall, so it can squeeze into some of the smallest places. Have a small deck? Terrace? Fire escape? This kiddie pool will fit seamlessly and is the perfect size for two large adults and utilizes industry-leading safe, non-toxic, soft-touch vinyl that is free from harsh chemicals. 
Who says you can't have a pool?
It gets you outside
With COVID spreading like wildfire, staying indoors has never been more important. However, getting a little bit of sun is arguably just as important. Just ten to twenty minutes outside is all you need to increase the happy hormones in your brain. Additionally, the sun provides our bodies with the all-important vitamin D, which is a crucial vitamin for many different things such as bone health and keeping our immune system in tip-top shape to ward off bad bacteria. So, for the sole purpose of improving your overall well-being -- get yourself a kiddie pool!
Okay, So How Much Water Am I Supposed To Put In This Thing? 
Now that you understand all the incredible benefits of owning a kiddie pool, you're probably wondering how much water is needed for ultimate relaxation. Well, the truth is that it's really up to you. Some people like just a little bit of water to dip their feet and others like a little more water in there so that they can splash around. 
Our FUBOY Kiddie Pools can hold a little more than 250 gallons of water. That said, we don't recommend that you use this much—you should never exceed 12 inches of water in one of our kiddie pools. If you have tiny tots, start with just a few inches of water, and then you can work your way up to a bit more as they get older. 
Lucky for you, on our 3 ring pools, there's a water fill line on the inside at 12 inches, so you know you'll fill it the perfect amount, every single time! 
Once you're done enjoying your pool, it's really important that you empty all the water and give it a good scrub. Not only will cleaning your kiddie pool after each use helps to keep it in great condition, but it will stay sparkling clean for the next use. 
A Final Word 
So, how much water should you put in a kiddie pool, you ask? 
At the end of the day, it's up to you. Think about what you're using the kiddie pool for: if you're using it to soak your tired feet, you're probably okay with just a little water. If you're using it to fully submerge your body to beat the heat, more water will be needed. The worst thing that can happen is you fill it with too much water, and it spills over -- so keep that in mind when your choosing where to put your pool!
Looking for an amazing kiddie pool this summer? FUNBOY can help! Check out FUNBOY today and reap the benefits of a kiddie pool -- trust us - you'll be glad you did! 
Sources:
A Timeline of COVID-19 Developments in 2020 | AJMC | AJMC.com Managed Markets Network
Vitamin D: The Happy Hormone | Alliance Integrative Medicine.
How to boost your immune system | Harvard Health
"The Dirty Dozen" cosmetic chemicals to avoid | David Suzuki