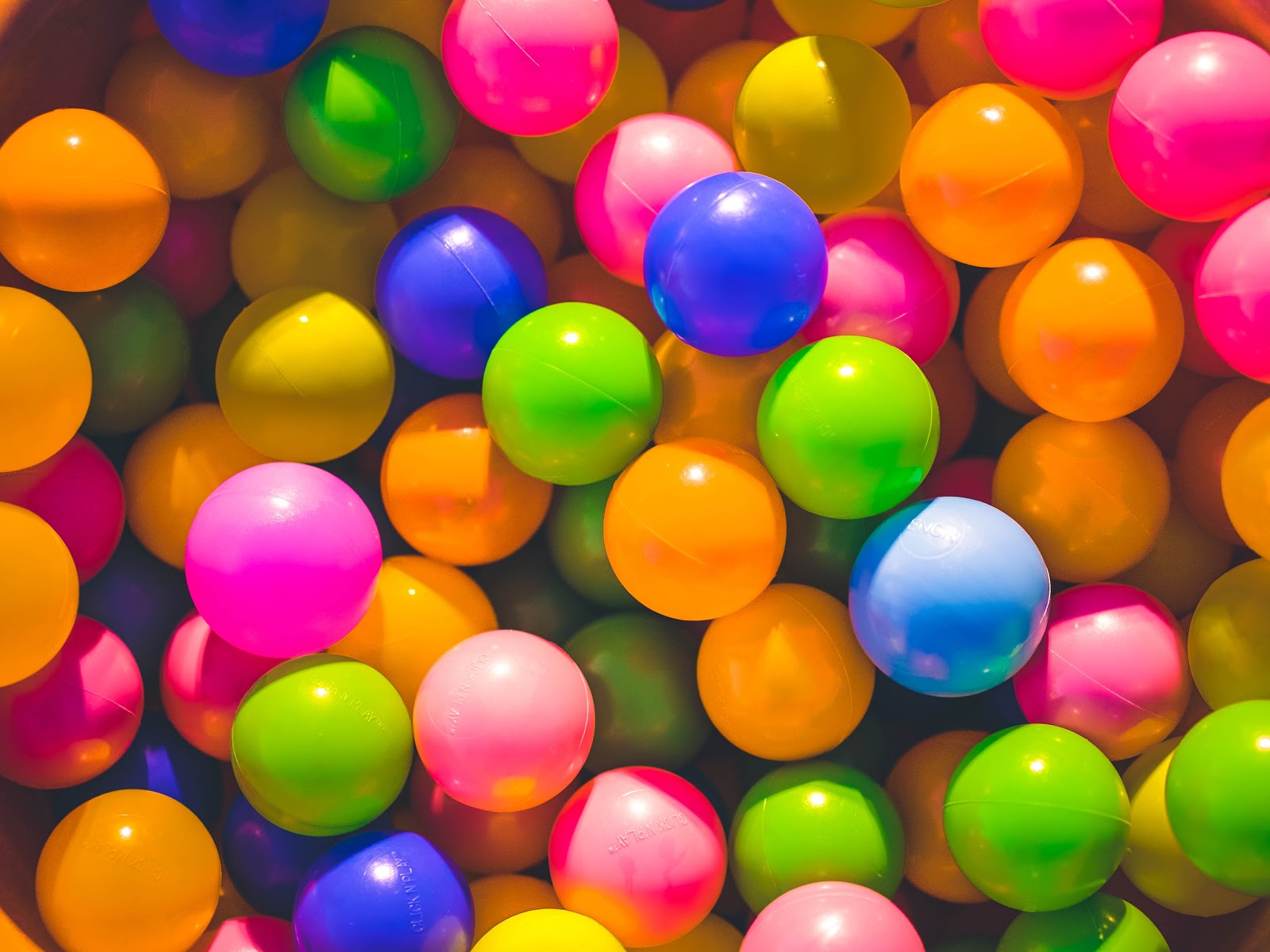 How Many Ball Pit Balls Does It Take To Fill A Kiddie Pool?
Summer is the time of the year when your kiddie pool gets quite a bit of use. Whether you use it for a safe place to swim for your tiny tots or convert it into your very own mini oasis made just for one,kiddie pools are the ultimate summer accessory. But if you're like us, all the swim and summer gear (kiddie pool included) gets stuffed in the shed or garage for the other 75 percent of the year -- rotating with all the pumpkin and autumn-themed displays and, of course, the Christmas decor! 
This year, rather than folding up your kiddie pool and storing it until summer comes round again, take it out from hibernation and turn it into your very own ball pit! But how exactly do you create one, and how many ball pit balls does it take to fill a kiddie pool? We'll tell you. Read on to learn everything you need to know to convert your seasonal kiddie pool into all-year fun.
How To Turn A Kiddie Pool Into A Ball Pit 
In the summer, it's pretty easy to keep the kids busy because there are so many fun activities. From lazy beach days to wild pool parties (okay, maybe notthatwild) and everything in between, the summer season is full of entertainment. And one thing we've really been loving lately is kiddie pools. Why? Because they are the best to keep the little ones cool and provide a safe swimming environment for hours of fun. This year, instead of packing up your kiddie pool at the first sign of fall, clean it out and bring it inside to create your very own ball pit. 
Kids LOVE ball pits. They can dive in and hide, crawl, or swim through the balls -- they even have fun tossing the balls around. Additionally, ball pits provide the little ones with a number of great opportunities to foster learning: Playing in a ball pit allows the kiddos to strengthen their muscles while throwing and rolling the balls supports their fine motor development. Ball pits are also an excellent activity for sensory play! Additionally, ball pits also offer kids great opportunities for social interaction. 
Bottom line: ball pit play promotes development and fun learning experiences, so rather than banning your kiddie pool to the deep depths of your garage until next year, turn it into a ball pit. 
Here's how:
Step 1: Clean Your Kiddie Pool 
The first thing that you're going to want to do prior to filling your kiddie pool with balls is to give it a good cleaning. Many people like to use bleach or chlorine, but we prefer to stay away from harsh chemicals. All you really need is a little bit of soap, a sponge, and some elbow grease.
Step 2: Let Your Kiddie Pool Dry
After you clean your pool, grab a clean towel and wipe it down. Be sure to get into all the nooks and crannies. Then, let the kiddie pool dry in the warm sun for about four hours. This is arguably the most crucial step in the kiddie pool cleaning process because the sun's rays will naturally kill anything that's still lingering. 
Step 3: Bring Your Kiddie Pool Inside
Once the kiddie pool is totally dry, it's time to bring it inside to start building your ball pit. Pick a place in the house that isn't next to anything sharp that could ultimately pop your pool. Also, take into consideration that this will be where your little ones spend a lot of time, so an open space where you can easily supervise them is ideal. Using an air pump, inflate your kiddie pool. 
Step 4: Fill Your Kiddie Pool With Ball Pit Balls
Now it's time to transform your kiddie pool into a ball pit! We recommended using around 240-480 balls to pair perfectly with FUNBOY's Heart Ball Pit or Tropical Palm Ball Pit, but this can vary depending on how many munchkins you have playing in the pit. 
We also recommend FUNBOY's premium extra-large white 3.15-inch pit balls. Why? Because not only are they the perfect size, but they are also made with a clean and safe formula that exceeds children's product safety standards. Additionally, these ball pit balls are BPA-free, lead-free, and free from 10 harmful phthalates. They are crush-proof and packaged in a reusable zip-top mesh bag for easy clean-up and storage.
Bottom Line 
So, how many ball pit balls does it take to fill a kiddie pool? 
At the end of the day, you can fill your kiddie pool with as many ball pit balls as you would like, but we recommend roughly 240-480 ball pit balls for a great time. Just be sure to thoroughly clean your kiddie pool prior to transforming it into a ball pit to keep it in great condition. 
For all of your kiddie pool and ball pit needs, check out FUNBOY!
Sources:
Summer: The Warmest Season | LiveScience
The Christmas Season | crivoice.org
Ball Pit Benefits | Mindful Child Aerial Yoga