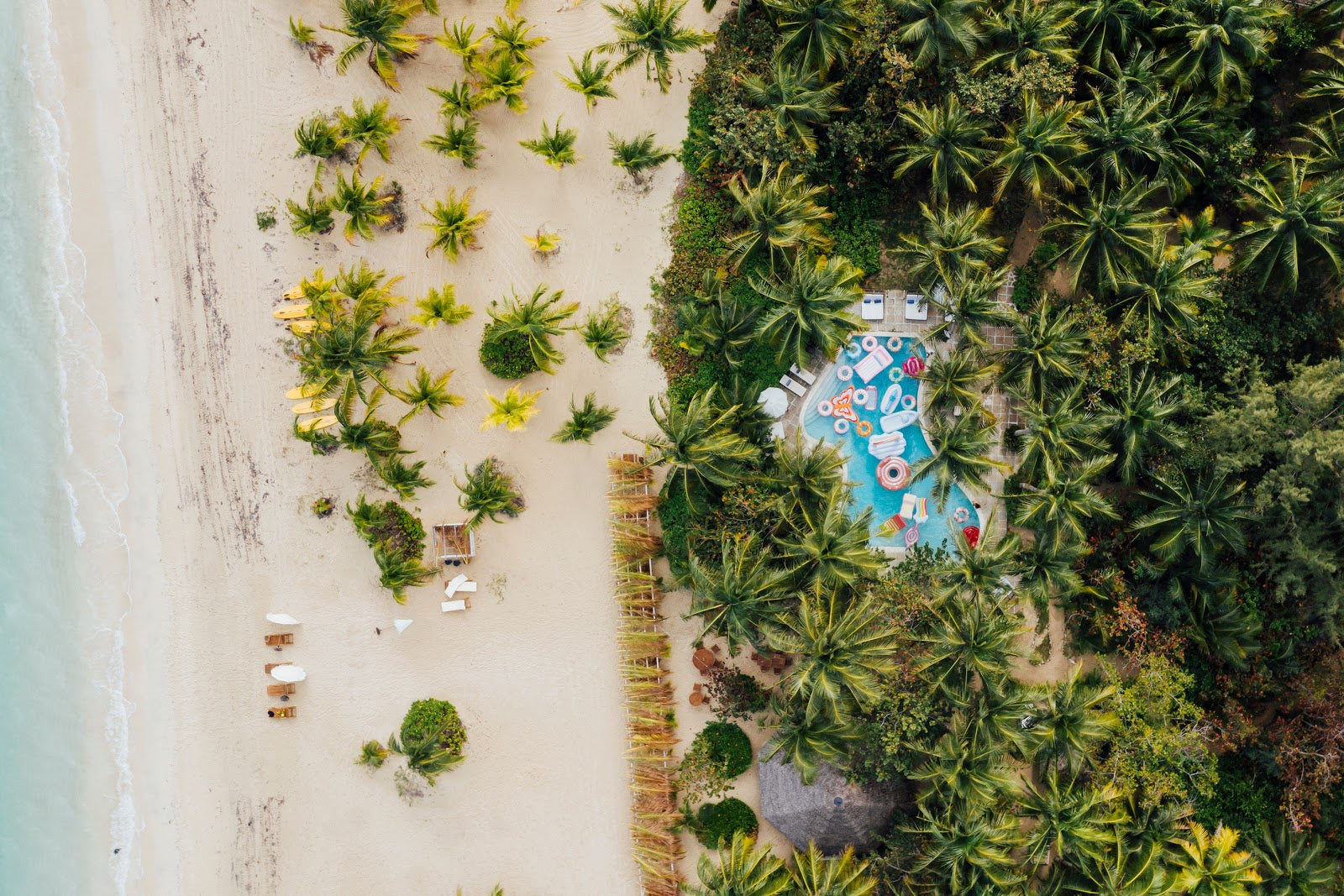 6 Things You NEED To Bring To Your Next Pool Party
There are certain rules of the summer season that you just don't argue with. Like when an email pops up in your inbox with the subject line "POOL PARTY" (or you get a text, which is a lot more likely these days), your reply is always "Yes." The only question you should ask yourself is:what the heck am I going to bring?! But hey, don't stress -- FUNBOY's got your back! Read on for the six things you NEED to bring to your next pool party.
Fun Floats
Want to be a hit at the next party? Bring fun pool floats. From whimsical unicorns to fancy flamingos, pool floaties are the bees' knees! And get your camera ready because the right inflatable is sure to provide you with a ton of social media-worthy moments. Here are some of our favs:
Funboy Golf Cart Float 
So you might not be able to spend the day on the golf course right now, but youcanbring the GOLF VIBES to the pool with the world's first floating Golf Cart Pool Float made by yours truly, FUNBOY. 
This luxe inflatable is big enough to carry two friends looking to beat the heat under the fringed lined removable mesh sunshade. The integrated backrest provides the optimum upright lounge positioning with just the right amount of room to stretch your legs. Keep your summer bubbly firmly in place in one of the two cup holders, and watch all of your troubles melt away.   
Clear Rainbow Chaise Lounger 
If you're anything like us, you love to shake what your mama gave you. But sometimes, our feet get tired, which then forces us to go inside to catch our breath. Don't let your sassy spirit cause you to miss out on a good time; simply bring your Clear Rainbow Chaise Lounger and relax in the pool instead! 
This super luxurious lounger is like no ordinary pool floaty. In fact, if you ask us, it's the ultimate pool accessory and can also be used to relax poolside. Measuring over 70" long with a reinforced cup holder to keep your cocktail-of-choice firmly in place, once you give this versatile lounger a try, you'll never want to get off. Yes, it's reallythat comfortable!
Pink Banana Tube Float 
Go BANANAS at the pool party this year and sink your teeth into this wildly fun Pink Banana Tube Float from Funboy. Featuring big, vibrant yellow bananas adorn a pastel pink tube float, this oversized inflatable is nothing short of boring. And, of course, it comes with a reinforced cup holder to keep your soda pop, beer, or cocktail perfectly in place while you relax.  
Clear Pink Mesh Lounger 
Is it just us, or does everyone have those moments when they're in the pool but alsodon't want to be in the pool? If only there was a way to relax in the water without getting fully submerged. 
Well, now there is -- we bring you FUNBOY's Clear Pink Mesh Lounger! This simple yet luxurious float design has a perfectly sculpted shape that will hug your body, giving the feel of laying in a mini-hammock. Coupled with an elongated mesh bottom and a headrest for ultimate relaxation, this floaty is one you surely don't want to forget. 
Retro Convertible 
Beep! Beep! Tell your party people to move aside as you arrive at the pool in style on FUNBOY's Retro Convertible Float. With the wind in your hair and the water on your toes, there is arguably nothing better than this queen-sized daybed float made for two. And the best part? It has a massive front cooler made specifically for ice, cold drinks, speakers, and more!
Red Lips 
This summer, kiss and tell (or don't)with the FUNBOY Lips Pool Float. Finally, a summer fling that will take you past first base but won't let you down -- just remember, no biting allowed! This giant inflatable measures over six feet in length and is perfect for carrying you and a friend for some serious relaxation. But don't forget its flirty counterpart: the matching inflatable 3 Pack Lip Drink Holder -- the perfect poolside trio for your beer, cocktail, or your favorite soda pop.  
The "Essentials"
Just like how you can't eat a peanut butter and jelly sandwich without the peanut butter, you can't go to a pool party without these essentials:
Towels
Once your done gliding across the pool water on your favorite floaty, you're going to need to dry off with a super cozy towel. Get yourself a top-quality towel like the ones found at FUNBOY that will dry you off in a matter of minutes. These super soft towels are made of 100 percent absorbent cotton and come in many beautiful designs; from Disco Shag to Tie Dye, FUNBOY has a towel for everyone. 
Beach Tote 
Sunscreen, speakers, sunglasses -- you're not going to hold all these items in your arms, are you? When heading out to the pool party, you'll want to be sure to bring your favorite FUNBOY beach tote to carry all the essentials. Designed with an iridescent transparent PCV material with a chic canary yellow trim, this bag is ready to add a little pizzaz to your party look. 
Lawn Chair 
When you're done swimming in the pool but aren't ready to go inside, a lawn chair makes for a perfect solution. Don't leave home for the party without a super comfortable lawn chair like the one from FUNBOY. 
Inspired by vintage lawn chair designs, FUNBOY took basic lawn chairs and gave them their own vintage twist. These quality chairs are lightweight, foldable, and extremely easy to carry, making them the perfect pool party accessory. And unlike other lawn chairs on the market, FUNBOY created these super chairs to be UV, mold,and mildew resistant to withstand many years to come. They fold flat for easy storage and come in two fun retro colors. 
Water Mist 
Need to cool off but don't feel like diving in the pool? Never fear! FUNBOY's Aqua Hydrating Water Mist is here to save the day! This powerful yet gentle mist is infused with pure water and rosehip to hydrate and refresh your skin with a constant micro-mist spray. 
Why use rosehip, you ask? Simple -- rosehip is rich in skin-nourishing antioxidants and has even been used as a natural remedy for decades to moisturize and calm the skin. Use whenever, wherever -- it's always a good time to mist!
Cooler 
Last on the list but certainly not least, don't leave home without a cooler to keep all of your drinks, well, cool! We love the FUNBOY Tropical Palm Pool Drink Cooler because it can easily fit up to 18 cans and three bags of ice. Perfect for all the drinks you need to keep you and your pals properly hydrated. This oversized cooler uses phthalate-free PVC, is extremely durable, and inflates in a matter of seconds. And the best part? You can use itin oroutof the water -- the choice is yours!
Bottom Line 
Here at FUNBOY, welove pool parties. The music, the dancing, the pool games… if you ask us, nothing screams summer more than a good time by the pool. Just don't forget to bring the six items we've listed above: pool floaty, towel, tote, lawn chair, water mist, and a cooler. These party essentials will help to keep you relaxed and hydrated so you can party from sun-up to sun-down. Guaranteed. 
Check out FUNBOY today and get everything you need for your next poolside bash!
Sources:
Summer: The Warmest Season | LiveScience
Pandemic and lockdown: How 2020 changed the world | Japan Time