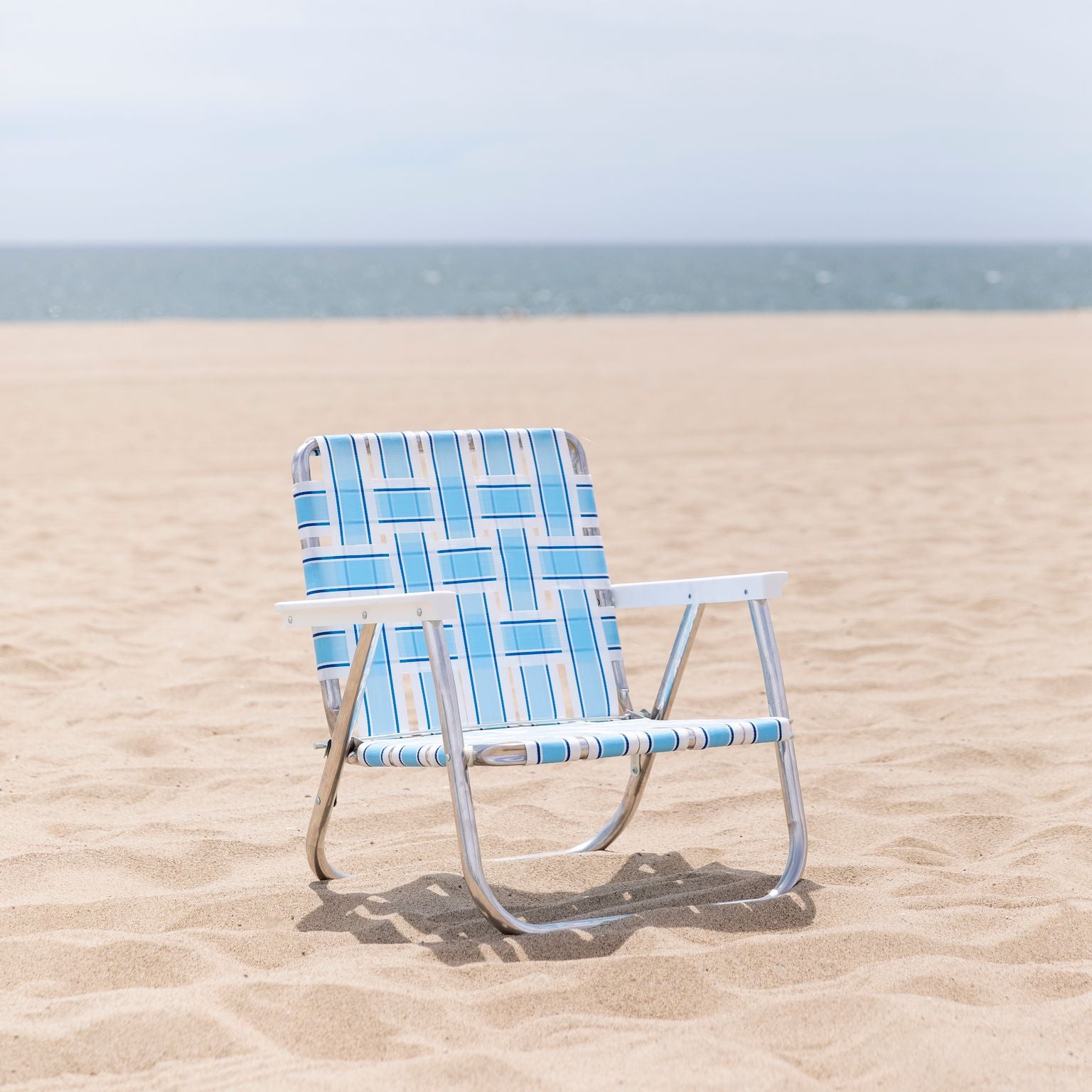 How To Re-Web A Lawn Chair The Simple Way
If there is one thing that you will never hear us complain about, it's thestrides outdoor furniture has made over the years towards becoming as "indoor-like" as possible. Sure, we will always love a good patio sofa and theoh-so buttery soft outdoor cushions that sit atop it. But there's just something about those throwback webbed and metal lawn chairs that make them a close second in terms of coziness: nostalgia. 
Back in the '50s and '60s, these backyard staples made appearances everywhere—frompicnicsand pool parties to front yard happy hours and everything in between. And this summer, they are making a serious comeback! 
As more and more people venture out into socially distanced gatherings,retro lawn chairs like the ones found atFUNBOY are especially fitting. Affordable, compact, and portable, these chairs are practical while also offering a larger dose of personality than your average—and boring—camping chair. 
Most lawn chairs on the market are made to hold a significant amount of weight. But over time, the material may begin to break away and fray. To keep your lawn chairs looking fresh and in tip-top shape, why not repair broken or damaged pieces and simply re-web your lawn chair when it's in need of a little pick-me-up? 
Not sure how? Never fear,FUNBOY is here to help! Keep reading to learn how to re-web a lawn chair, the simple way. 
7 Easy Steps To Re-Web Your Lawn Chair
Step 1: Measure The Existing Webbing
First things first, whip out your handy dandy measuring tape and measure the existing webbing sections on your lawn chair. The replacement webbing is usually sold in rolls containing 39 feet of webbing. For large lawn chairs, it may be necessary to purchase more than one roll. If new screws are not included in the package, be sure to purchasegalvanized sheet-metal screws and washers. 
Step 2: Remove The Screws From The Old Webbing
Next, you'll need to remove the screws from the old webbing and discard them. Some lawn chairs have the webbing attached with pop rivets. Drill the rivets with the smallest-possible drill bit and then remove the pop rivets. 
For the new webbing, screws will be used in lieu of pop rivets.
Step 3: Cut The New Webbing
Once you remove the screws from the old webbing, you'll need to cut the new webbing. Use the old webbing to measure how much new webbing you will need. Simply stretch the old webbing across a flat surface and use it as a template to cut a new piece. 
However, if the old webbing is too frayed or stretched to make a good template, weave a new section of webbing into place on the chair and allow it to hang over each side of the chair by two inches. Then, cut the new piece with a pair of scissors.
Step 4: Weave The New Webbing In Place To The Seat Of The Lawn Chair
Starting at the back of the seat on the chair, lay the new webbing across the seat and attach it to the bottom of the frame. Be sure to use a washer on each screw and fold the ends under before driving the screws into the frame. Continue across the width of the chair seat until all the webbing is in place, pulling it firmly but not so tight that it warps the aluminum frame.
Step 5: Continue Weaving Front-to-Back
Starting at the front of the lawn chair, attach the first piece of webbing that'll run front-to-back and simply weave it in and out over the pieces of the new webbing already attached across the width of the chair. Then, attach the end of the webbing at the back of the chair and continue until all the seat webbing is in place.
Step 6: Do The Back of The Lawn Chair
Once you've completed the seat of the lawn chair, follow the same steps, and complete the back of the chair. 
Step 7: Test Your Lawn Chair And Relax!
Once you've completed all the above steps, you'll want to test out your new lawn chair to make sure the new webbing is securely in place. So sit down, kick up your feet, and relax! 
Now that you've finished re-webbing your lawn chair, let's talk about different ways you can use it.
Different Ways To Use Your Lawn Chair
During the warmer months of the year, your lawn chairs get plenty of traction between all of the visits to the swimming pool with friends, beach outings, and lively neighborhood block parties. 
But what are some other creative ways one can use their lawn chair?
Bonfire
Whether it's at the beach or your very own backyard, sitting around the crackling fire with the people you love most is a great way to not only put yourFUNBOY lawn chair to good use but also to swap stories and make new memories. If you are planning a bonfire, be sure to set out a few lawn chairs to keep everyone nice and toasty around the fire. 
Backyard Hang
This year has been a little crazy, to say the least. If you are starting to get a little stir-crazy from staying indoors, plan a backyard hang with a few of your closest pals. Set up lawn chairs (6-feet apart, of course) and create a mini oasis. We loveFUNBOY's retro lawn chairs because they are not only cute, affordable, and compact, but they are also extremely lightweight—so they are easy to carry!
 If the weather is right, inflate yourFUNBOY Pink Heart Kiddie pool and sip on delicious drinks to keep cool.    
Picnic At The Park
Another great way to use yourFUNBOY lawn chair is to take it to the park for a picnic. Make some tasty sandwiches, grab the kids, and head outside for some very much neededvitamin D. While the kids play in the jungle gym, you can relax and kick up your feet on your lawn chair while catching up on the latest gossip. 
Not only will you break your seemingly repetitive routine and get outdoors, but your little ones will tucker themselves out, which will help make their bedtime routinemuch easier. 
Sporting Events
Whether it's a baseball game in the warmth of spring or a football game in the chill of fall, you are without a doubt going to need a place to sit. Attempting to navigate the available seats in the bleachers can prove to be quite a challenge, so save yourself the trouble—and headache—by bringing yourFUNBOY lawn chair. 
You are guaranteed a comfortable seat with your group of pals, and you won't have to deal with the potential discomfort of climbing over other people on your way in and out of your seat. 
A Final Word 
We love lawn chairs. They are versatile, compact, and lightweight, proving to be the ultimate outdoor seating. If you have an old lawn chair that needs a little bit of sprucing up, don't throw it away. Simply follow our steps listed above and re-web your chair to make it new again. 
Lawn chairs have a lot of uses, and with the proper care, they can last a lifetime. We love the retro lawn chairs fromFUNBOY because they are rustproof, extremely lightweight, and made here in the beautiful USA.
Whether you are looking to host a backyard hang with a few of your closest pals or heading to a fun sporting event and want to avoid sitting in the bleachers,FUNBOY's Retro Lawn Chairs have your back!
Sources:
https://www.onlinearticlesdirectories.com/a-brief-history-of-patio-furniture/
https://www.nytimes.com/2020/05/09/dining/coronavirus-how-to-have-a-picnic-safely.html
https://resources.tannerbolt.com/articles/3-common-screw-types-at-a-glance-machine-sheet-metal-and-cap-screws
https://www.homedepot.com/c/ab/types-of-drill-bits/9ba683603be9fa5395fab9026af9044
https://ods.od.nih.gov/factsheets/VitaminD-HealthProfessional/