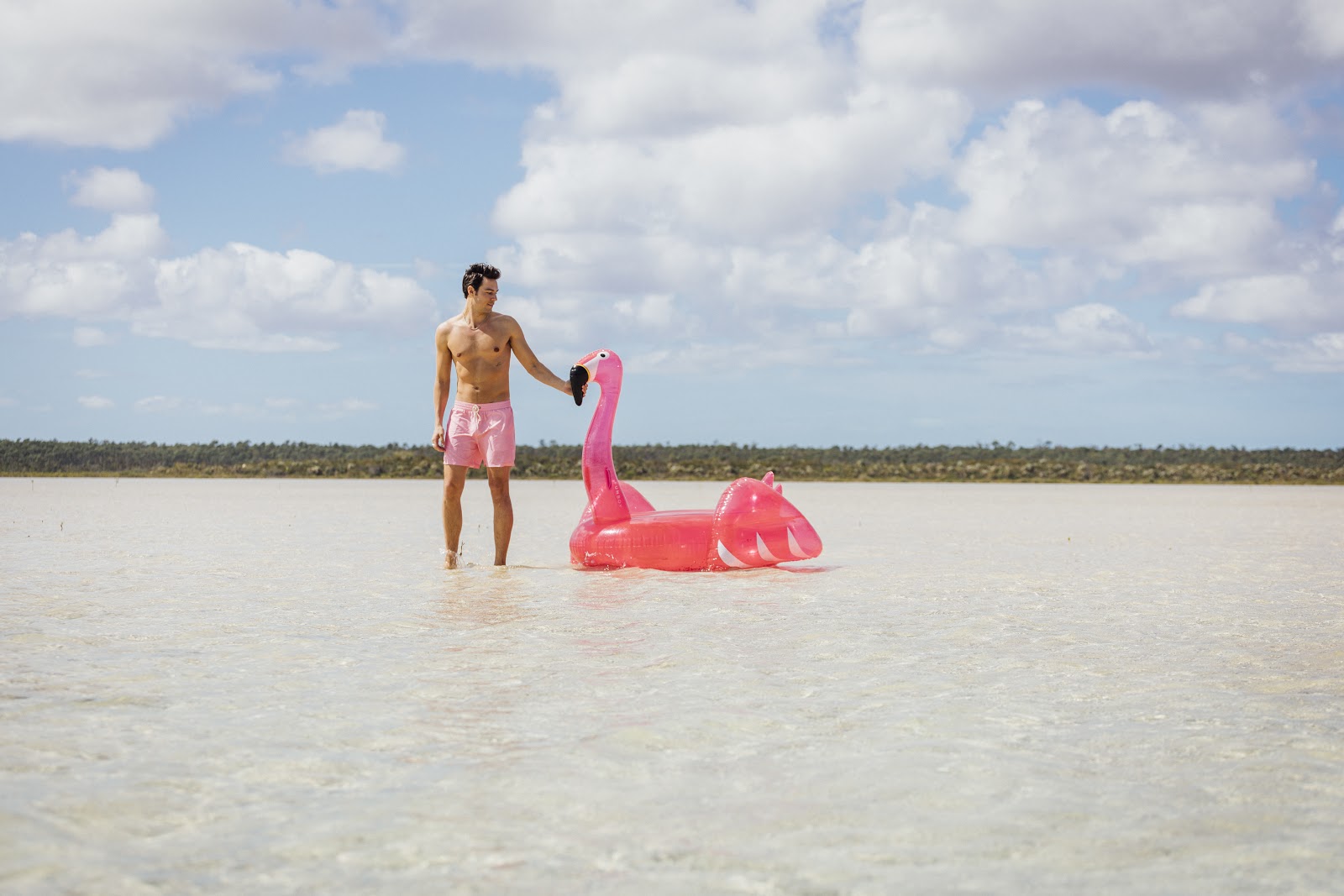 How To Throw An Incredible Pool Party
Did you know that summer is hands down the best season for your overall health and happiness? Yep, it's true. Aside from people being more active and eating better, the warm sunny weather can improve your beauty sleep and even boost your immune system. With so many incredible benefits to reap, you definitely don't want to miss out on getting your daily dose of vitamin D. 
And what's the best way to enjoy summer, you ask? Pool parties, of course! But how does one throw a totally epic pool party? We'll tell you. Read on to learn everything you need to know to throw your best poolside bash yet. 
Best Tips To Throw An Incredible Pool Party
Whether it's a pool birthday party, the Fourth of July, or just an excuse to get family and friends together, pool parties are a perfect excuse for lots of fun in the sun. Want to make your pool party one to remember? Check out our awesome tips and tricks below:
Send Festive Invitations 
Before you begin planning, take a little time to envision your dream pool party. Ask yourself: What does it look like? What kind of drinks and food are you going to serve? Is there an overarching theme?
Once you have a vision for your party, it makes planning much easier. Whether you decide to have a theme for your party or not, make sure your invitations are fun and vibrant. Don't forget to include any items that your guests should bring, like their swimsuit or a towel, on the invite. 
Go Big On Decorations 
As long as it's within the budget, go crazy with decorations. Having an incredible party is all about providing atmosphere -- so do it right. Palm trees, tiki torches, the whole nine yards -- a little atmosphere can transform your rather basic backyard into an oasis.
Keep Your Guests Hydrated With Fun Drinks 
Since you're going to spend many hours in the hot summer sun, you need to make sure your poolside bash is stocked with refreshing beverages. To keep things simple, fill a cooler with ice and popular drinks like soda pop, bottled water, and if you're throwing an 'adult pool party,' plenty of beer or seltzers. 
To take things up a notch, you could set up your very own tiki bar, complete with tasty cocktails. And if you anticipate that your friends will spend a lot of time swimming in the pool, they may not want to get out for refreshments -- consider getting a floating cooler like the one from FUNBOY. This Tropical Palm Pool Drink Cooler can hold up to 18 cans and three bags of ice -- perfect for any poolside bash!
Have A Nice Spread Of Tasty Snacks 
Having a good balance between healthy food and junk food is important for satisfying your guests. Too much salt could cause bloating, which isn't nice when you're trying to rock your favorite bathing suit! However, since everyone will be sweating in the hot sun, some salty treats can help replenish lost electrolytes. 
For these reasons, having a balanced spread of fresh fruit and party foods is ideal. If you want to be the ultimate host, consider buying a bunch of different fruits and create a yummy fruit salad. Many supermarkets offer pre-cut fruits, so if you want to save time, all you have to do is toss the fruits together. 
For salty snacks, corn chips, potato chips, and pretzels are always appreciated. Just don't forget the dips like salsa, hummus, and guacamole. Once you cover those basics, you can add other fun, tasty extras you think your friends would enjoy. The more variety --, the better! 
Whip Up A Vibrant Menu 
Most poolside extravaganzas go on long enough to require a quick meal. While this is good news because it means your party people are having a great time, it can be really stressful trying to prepare a meal for a large group. 
Since parties are relaxed, don't worry about hosting an elegant dinner party. Instead, fire up the barbie and treat your friends to a BBQ. Not only are hot dogs and burgers easy and inexpensive, but they are guaranteed crowd-pleasers. 
Don't Forget The Pool Floats
No pool party would ever be complete without a few picturesque pool floats! Here are some of our favs that youneed for your party:
FUNBOY Golf Cart Float
While large groups are still not advised due to social distancing recommendations by the CDC, you can still bring golf vibes to the pool party with FUNBOY's Golf Cart Float. Two friends can beat the heat under the lined removable mesh sunshade while dreaming of brighter days. This luxe float comes with two front cup holders, and the integrated backrest provides the perfect upright lounge positioning with enough room to fully stretch your legs. 
Clear Pink Glitter Unicorn
We're sure you've seen inflatable unicorns all over your social media feed, but have you seen a Clear Pink Glitter Unicorn? FUNBOY's glittery pink remix on the classic unicorn is made with clear translucent material tinted with millennial pink. Filled with shimmery glitter for a wild metallic unicorn float experience, this stunning float comes with a reinforced cup holder and is sure to change the mind of any non-unicorn believer; unicornsdoexist.
Clear Rainbow Chaise Lounger 
Arguably the best chaise lounger on the market, FUNBOY's Clear Rainbow Chaise Longer is one you definitely don't want to forget. The extra-thick, smooth, transparent material lets you see through the chair and directly into the water, creating breathtaking color hues that change throughout the day depending on the light. It is unbelievably comfortable and can be used in the water and on land! 
Retro Pink Convertible Pool Float
Beep, beep! Arrive at the party in style with FUNBOY's Retro Pink Convertible Pool Float. With the wind in your hair and the water on your toes, it's not the destination -- it's the road you take to get there. This queen-sized daybed is big enough for two friends and even comes with a massive front cooler for ice, drinks speakers, and more -- just be sure never to use glass in the pool!
Pink Banana Tube Float
This pool party is bananas,B-A-N-A-N-A-S! Peel off with FUNBOY's wildly fun Pink Banana Tube float. Big bright yellow bananas adorn a pastel pink tube float -- talk about some serious vibes. This 50' oversized design includes a reinforced cup holder to keep your drink firmly in place while you float and inflates in under a minute. 
Pink Retro Phone Float
Ring, ring; summer is calling! Totally 90's and perfectly pink, FUNBOY's Pink Retro Phone Float is so cool, you'll def be getting tons of summer rings when you float with these sweet digits. As if you need to know more, it's even got a built-in headrest and a reinforced cup holder, so you'll be straight chillin. This massive float measures 78" long for two friends to lounge.
Clear Pink Glitter Flamingo
Bring the tropics to your pool party with FUNBOY's Clear Pink Glitter Flamingo. Filled with glitter and perfectly pink, this oversized float is sure to bring the sunshine to you and your friends.  
Clear Red Lip Couch
Pucker up, buttercup -- FUNBOY's inflatable Red Lip Couch is here. Inspired by the surrealist movement, this full-size lip couch features a luscious red material and brings back the inflatable furniture vibes from the '90s. Perfect for poolside lounging, in or out of the water. 
Complete with a reinforced cup holder to keep your drink firmly in place for endless summer lounging, kissing has never been more comfortable!  
Towels, Towels, AndMore Towels 
Regardless if you ask your guests to bring their own towel or not, it's a good idea to have a towel station. People will be in and out of the pool and will want to be able to dry off -- especially if they need to go inside. Stock up on cozy towels and put them somewhere where everyone can see them. We love the extra-large towels from FUNBOY because they are so deliciously soft and made with 100% absorbent cotton to help dry your guests off in a matter of minutes.
Your towel station is also a great place to keep other essentials, like sunscreen, a handy-dandy first aid kit, and bottled water. For especially hot summer days, FUNBOY's Hydrating Water Mistis a nice touch, as well. Rosehip infused water hydrates, cools, and refreshes your skin with a constant micro-mist spray mist -- use whenever, where ever, it's always a good time to mist, and your guests will appreciate the gesture. 
Have Cozy Lounge Chairs 
Although it's called a "pool party," there are plenty of people who prefer to avoid swimming in the pool altogether! If you have any guests who want to work on their tan, make sure you have a few comfy-cozy lounge chairs set up around the pool. Even your guests who spend a long time swimming will appreciate taking some breaks to relax. 
For the best chairs, check out FUNBOY. These Retro Lawn Chairs are designed with rust-free, lightweight aluminum and fade-resistant high-quality webbing. Inspired by vintage lawn chairs, FUNBOY created these cozy chairs with a vintage twist. UV, mold, and mildew resistant, your guests will love lounging in these funky yet cozy chairs.   
Plan Pool Party Games 
With plenty of food, music, and friends, your pool party is already guaranteed to be a blast. But if you want to take it up a notch, make sure you have a few games prepared. If you want to keep things lowkey and simple, you can always stay classic by pairing up for chicken fights or Marco, Polo. 
Just remember to be courteous of other guests who prefer to stay dry -- if there is a lot of splashing, keep an eye on any sunbathers to make sure they're having a good time, too!
Give Memorable Party Favors 
To thank your friends for coming, consider putting together a little goodie bag for them to take home. While it's not required by any means, this extra step means a lot to your guests, and it doesn't have to be anything crazy. 
One idea is to make simple candy packs -- you can fill them with Swedish Fish, Life Savers, and other beach-inspired tasty treats. For extra fun, place these goodie bags in a toy sand bucket with a shovel, over-sized sunglasses, bubbles, magnetic sand, etc. Since people are generally happy simply to receive a surprise, you don't have to spend a huge fortune on extravagant gifts -- it's the thought that counts the most! 
A Final Word
Now that you know all the best tips for throwing an incredible pool party, it's time to start planning. For all of your party needs, check out FUNBOY -- the leader in high-quality luxury inflatables. Whether you're looking for cozy towels to keep your guests warm or awesome pool floats for the ultimate floating experience, FUNBOY has everything you need. 
Check out FUNBOY today and make your pool party the best one yet!
Sources:
Summer: The Warmest Season | LiveScience
Why You Feel Healthier In The Summer | Mind Body Green
A Timeline of COVID-19 Developments in 2020 | AJMC