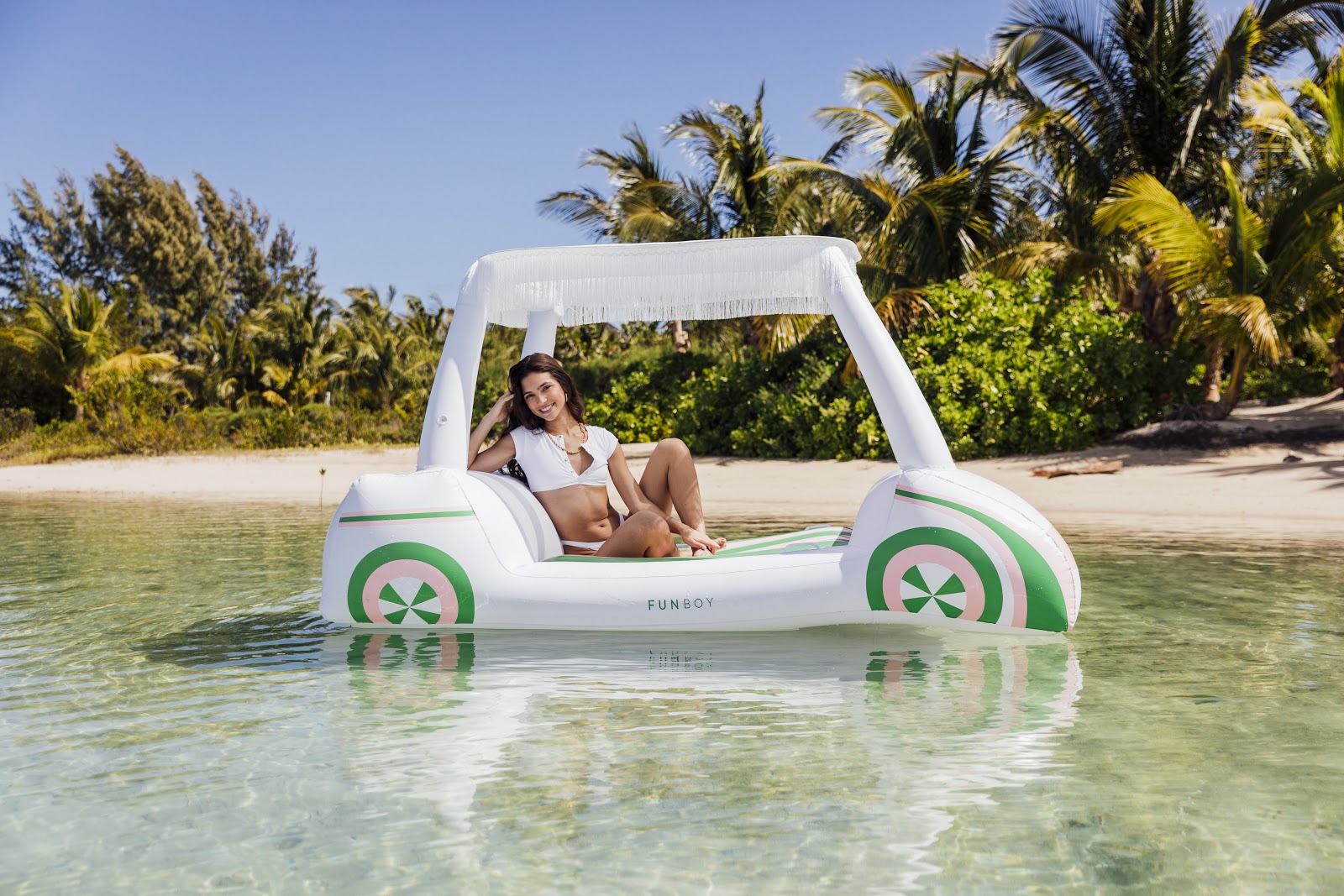 What Type Of Pump Do I Need For My Pool Float?
Inflatable pool floats aren't just for kids anymore -- and let's be real, they never really were. If you have access to a pool, you can quickly inflate your favorite whimsical unicorn or giant flamingo float and pretend you're somewhere else -- like a nice vacation spot. We know you'll just be in your backyard or at the local swimming pool, but we'll let you dream. Grab a fruity cocktail or your favorite summer bubbly, and you can be transported almost anywhere. 
Pool floats are super easy to inflate. All you need is an air pump or some powerful lungs. However, seeing that inflatables these days are often much bigger than the average Joe, we don't suggest the latter. Why? Well, for starters, using your good ol' breath from your lungs can leave you feeling pretty dizzy -- especially when you're trying to blow up a 50 square ft Rainbow Cloud Daybed Float. Secondly, it takes forever. And the longer it takes you to blow up your float, the longer it will take you to get to relax. 
So, what type of pump do you need for your pool float, you ask? We'll tell you! Read on to learn more. 
Pump, Pump, Pump It Up! 
Back in the day, before air pumps were a thing, it was common to rely on the air in your lungs to inflate pool floats. Although this method is still used today, it's not recommended for larger inflatables because it frequently caused a sensation of lightheadedness -- which means your brain is suffering from hypoxia. In other words, your brain is not getting enough oxygen. Cells in your brain are especially susceptible to this condition and very rapidly begin to die without air. 
This is definitely not the way to start your summer vacation!
Today, air pumps help to make inflating our favorite pool floats easier than ever -- but which air pump is best for you? 
Different Types of Pumps
Generally speaking, there are two different types of air pumps on the market; manual and electric versions. Let's discuss the pros and cons of both:
Manual Air Pumps
Commonly referred to as a bicycle pump, manual air pumps function via a hand-operated piston. During up-stroke, this piston draws air through a one-way valve into the pump from outside. During the down-stroke, the piston then displaces air from the pump into your inflatable.
Manual air pumps are a popular choice because they are relatively inexpensive and are easy to transport. So if you're heading to the local watering hole with your best inflatable friend, packing a manual air pump in your bag is effortless. 
However, manual air pumps require the use of your arms, which can make them quite sore after the non-stop up and down on the handle to force the air into the float. Sure, there are foot pumps available, but you're essentially just trading a sore arm for a sore leg. 
Electric Air Pumps
Electric air pumps operate in the same way as other pumps but are powered only by the electrical power source -- not your arms. The electrical power is used to create a vacuum suction inside the pump so that air in the atmosphere is sucked in. The air is then compressed and pushed into the required chamber of your pool float. 
We love electric air pumps for the sheer fact that it makes blowing up air floats a breeze, but we're not going to lie -- they tend to come with a hefty price tag. Additionally, many electric air pumps are bulky, so it's really challenging to take them with you when you're on the go. 
However, leave it to the leader in high-quality luxury inflatables --FUNBOY-- to create an electric air pump with you in mind. This one is about the same price as a manual air pump, compact for easy transportation, and so powerful that it can inflate even the largest floats in under three minutes. 
Don't start your summer out-of-breath or with sore arms. The Pump from FUNBOY can help you to inflate your favorite pool floats in a matter of minutes so you can get in the water sooner than later. Besides, the sooner you're in the water, the faster you can start relaxing to get your tan on!  
Best Pool Floats To Inflate This Summer
Now that you know what type of pump you need for your pool float let's talk about some of the best inflatables to check out this summer.
FUNBOY Yacht Float 
Don't have a big luxurious yacht? That's okay! Pull the anchor and set sail with FUNBOY's luxurious Yacht Float. Get on the water in style with the sleekest, sexiest float of the summer. Featuring a daybed for two besties, dual drink holders, and a double reinforced front cooler to fill with ice, snacks (snack and float, that's a thing, right?), and all your favorite summer beverages. 
And don't forget to bring your furry friend to the pool, too, with the matching FUNBOY X Bark Yacht Dog Float! This pup-sized float has been engineered by doggy experts to deliver you and your pup the ultimate poolside experience. Designed with a thick puncture-resistant material, it can carry up to fifty-pounds and even has a reinforced treat compartment.
Giant Red Lips Pool Float 
This summer, kiss and tell with FUNBOY's Giant Red Lips Pool Float -- finally, a summer fling that will take you past first base but won't let you down. This beautiful inflatable measures over six feet in length and is perfect for poolside relaxation. 
Using The Pump, this massive float inflates in under one minute so you can get to flirting -- err, we meanrelaxing -- in no time. 
FUNBOY Golf Cart Float 
Bring the GOLF vibes to your backyard this summer with the world's first floating Golf Cart Float made by yours truly, FUNBOY. Two friends can lounge under the fringe-lined removable mesh sunshade while dreaming of brighter days. 
To help lighten the mood, enjoy your favorite summer bubbly and keep it firmly in place with the reinforced cup holder. The integrated backrest provides the perfect upright lounging positioning with enough room to fully stretch your legs. It inflates in under two minutes and is so comfortable, you won't want to leave the pool.  
Clear Rainbow Chaise Lounger 
Looking for a truly unique floating experience? Check out FUNBOY's Rainbow Clear Floating Lounger -- the ultimate floating chaise lounge chair. The extra-thick, smooth, transparent material allows you to see right through the chair and directly into the water -- creating stunning color hues that change throughout the day depending on the light. 
This versatile chair is unbelievably comfortable and can be used in the water and on land! If you ask us, it's the best poolside accessory and a must for those looking for ultimate relaxation. 
Pink Banana Tube Float 
Go BANANAS this year and sink your teeth into FUNBOY's wildly fun Pink Banana Tube Float. Big yellow bananas adorn a pastel pink tube float -- talk about vibes! This 50" oversized design comes with a reinforced cup holder to keep your drink firmly in place and inflates in under a minute. 
Rainbow Cloud Lounger 
Arguably the most comfortable solo lounger in the world, find yourself at the end of a rainbow with your head in the clouds when floating on FUNBOY's Rainbow Cloud Lounger. The oversized cloud pillow cradles your head for ultimate comfort and relaxation while the beautiful rainbow base gently floats your body to keep cool under the warm summer sun. 
Inflatable Butterfly Pool Float 
A whimsical love motif animates the giant 9ft wingspan of FUNBOY's Butterfly Pool Float. An emblem of love, the heart resonates out in a rainbow of color. Featuring a simple and soft pink on the other side -- mix it up depending on your vibe. Let the wings gently hug your body for a romantic floating experience. This massive float inflates with The Pump in less than two minutes. 
A Final Word 
Don't use the air from your lungs to blow up your inflatables. Use either a manual air pump or an electrical one. However, if you're looking for ultimate relaxation, we recommended using an electric air pump to avoid sore arms. 
For all of your inflatable needs, check out FUNBOY -- the world's finest luxury pool floats. Whether you're looking to lounge on a cloud or dream under a rainbow, FUNBOY has something for everyone. 
Sources:
How Does a Bicycle Pump Work? | Sports Rec
Summer: The Warmest Season | LiveScience