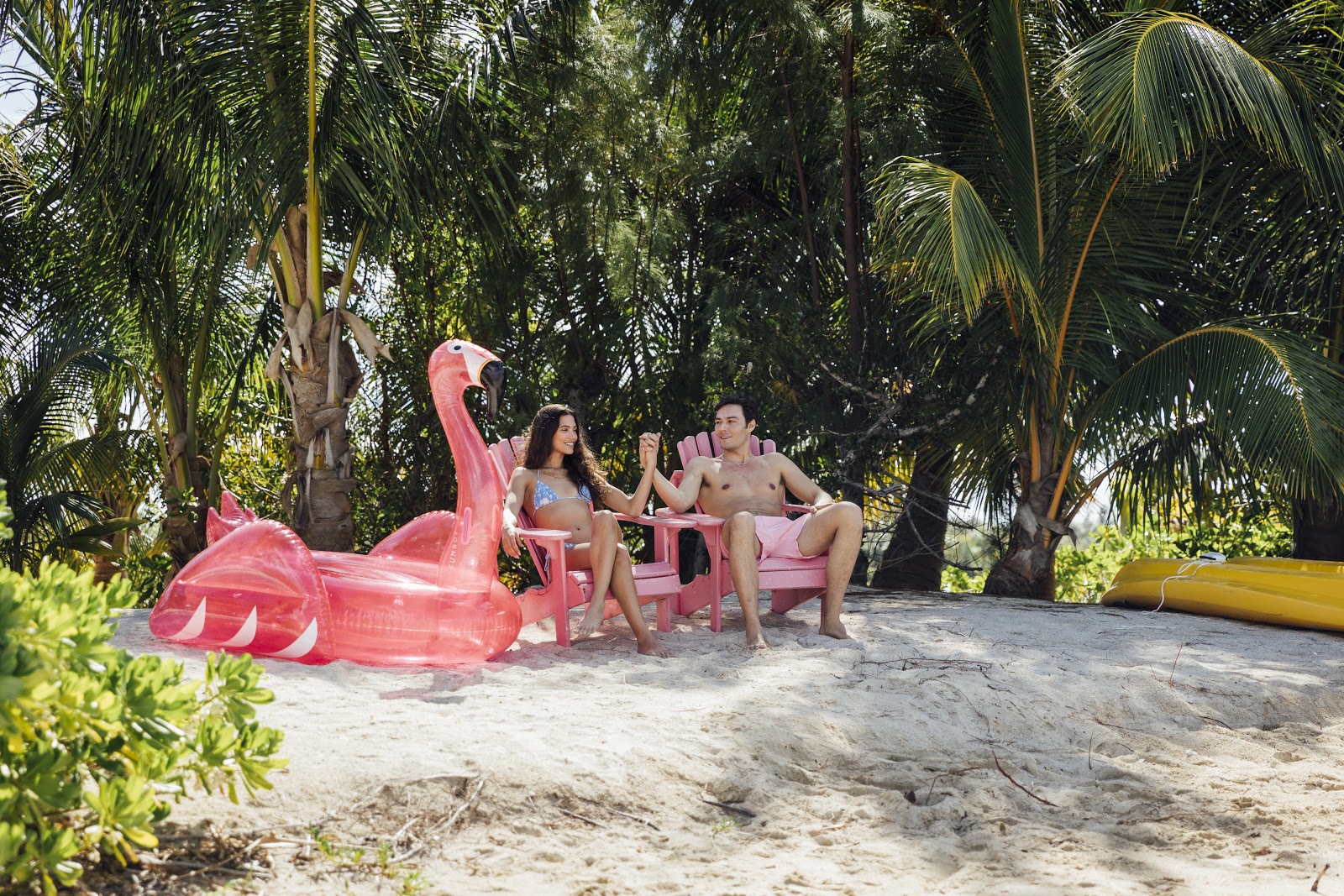 Why Do Pool Floats Deflate And What Can I Do About It?
Nothing is better than waking up to find that it's a perfect pool day. The sun is shining, the birds are chirping, and the swimming pool is calling your name -- so you slip on your swimsuit and race out the door to hop on your favorite pool float that's been waiting for you since the last pool day. But something's wrong: your once vibrant happy flamingo float is looking sad and droopy. What gives?
If you've ever wondered why pool floats deflate, you've come to the right place. In this article, we'll tell you everything you need to know and what you can do about it.
Pool Float 101: What You Need To Know 
Many people don't think twice about properly caring for their inflatables -- they're just pool floats, after all, right? But for those looking to keep their floats around longer than one measly season, a little inflatable TLC is required. 
Not sure how to properly care for your pool float? We'll tell you. But first, why do inflatables deflate, and how can we prevent that from happening? To answer this question, we need to think back to our grade-school science class.
Why Do Pool Floats Deflate?
The energy from the sun makes our Earth work, and without it, we wouldn't exist! However, that same energy -- in the form of heat and ultraviolet (UV) radiation, can do great harm to your pool floats. 
The main thing you need to be concerned about with your inflatables' relationship with the sun is overinflation. When we blow up a pool float, we fill it with warm air via our lungs or machine pump. Assuming there are no holes in your favorite floaty, the heated air during the day gains kinetic energy from the sun, expands, and causes your inflatable to become stiff. 
Conversely, when your pool float comes in contact with cold air, the air molecules in the float start to slow down and become much denser because of the change in temperature. For every ten-degree temperature drop, the float will lose around one psi, making it start todeflate. 
That's why when you don't store your pool float properly and leave it in the cold overnight, you'll often find it looking pretty droopy the next day!
How To Properly Store Pool Floats
Thankfully, it's pretty simple to prevent your pool float from deflating -- you just need to take proper care of it! Here's how:
Wash and dry pool floaties before storing.
Show your favorite pink flamingo some love and wash it before putting it away in storage. Damp and dirty inflatables are the perfect environment for pesky pests to set up camp and for mildew and mold to thrive --no, thank you! Before you deflate your floaties, follow these quick steps to ensure they are in perfect condition for your next pool day:
Use a dry towel to wipe off any dirt.

Rise with a garden hose. 

Fill a bucket with eco-friendly dish soap and warm water. 

Dip a clean cloth into your soapy mixture and scrub away. 

Rinse your pool float thoroughly. 
Deflate ALL the air out of your inflatable and gently fold it.
We've seen some pretty big pool floats, which means they're going to take up a lot of space. The good news is that they are easy to condense. The bad news, however, is that some of them can be really challenging to deflate. 
The simplest way to get the deflation job done is by using an air pump with deflation capabilities. After your float is deflated, gently fold it up so that you can easily stack and store them in any container. 
Speaking of containers… 
If you are storing your pool floats in containers -- use airtight containers.
Using airtight containers can prevent drastic changes in temperature from damaging your inflatables. They will also maintain a fairly consistent temperature to keep mildew and mold at bay. If you don't want to use bulky containers, or if you simply just don't have the room, you can always opt to use vacuum-sealed bags, which provide the same benefits. 
Or store your floaties in a cool, dry place.
If you plan on using your pool floats the next day and really don't want to put them away in a container after each and every use, we recommend bringing them inside to keep them safe from environmental elements. As we mentioned, cold air will cause your float to deflate, and although this won't be a disaster, it could reduce the longevity of your favorite inflatable.   
The Best Pool Floats To Check Out This Summer  
Now that you know how to properly care for and store your pool floats to prevent them from deflating, let's dive into some of the best inflatables that youneed to check out this summer so that you stay cool all season long:
Inflatable Rainbow Daybed Pool Raft & Float
More than just a float, The Rainbow Cloud Daybed is FUNBOY's most anticipated and largest piece in their collection. Featuring over 50 square feet of lounging paradise, you won't want to miss what is sure to be your dreamiest summer yet. 
This jaw-dropping inflatable is big enough for a few friends to float and dream under a beautiful rainbow, and if you ask us, it is totally Instagram-worthy! Take great photos, make memories, and relax -- this is one float you don't want to go without.   
Pink Retro Phone Float
Ring. Ring.It's for you -- summer is calling! Totally 90's and perfectly pink, FUNBOY's Pink Retro Phone Float is so *hella* cool, you'll def be getting tons of summer rings when you float with these sweet digits. As if you need to know more, it's even got a cup holder and a built-in headrest, so you'll be straight chillin'. 
This mega-float is a whopping 78" long and comes with a tether hook to tie it to your boat or dock. Oh, and the best part? It inflates in under two minutes, so you'll be floating in no time. 
Inflatable Butterfly Pool Float
A whimsical love motif animates the massive 9ft wingspan of FUNBOY's Butterfly Pool float. An emblem of love, the heart resonates out in a rainbow of color. Featuring a simple and soft pink on the other side, mix it up depending on your vibe. This stunning inflatable is big enough for two people, offering nothing short of a romantic floating experience. 
Just don't forget the matching Butterfly Drink Holder to keep your favorite summer bubbly firmly in place. The original print features a rainbow kaleidoscope emanating from dual hearts on the wings and has room to hold four standard size cans or cups. 
Clear Pink Glitter Unicorn
We're sure you've seen a ton of basic unicorn floats all over your social media feeds -- but have you seen FUNBOY's Clear Pink Glitter Unicorn? This stunning inflatable is made with a clear translucent material tinted with millennial pink. Filled with glitter for a wild metallic unicorn float experience, who says unicorns don't exist?  
Clear Pink Mesh Lounger
Stay cool while floating this summer with FUNBOY's Clear Pink Mesh Lounger. The elongated design comfortably hugs your body, giving the feel of laying in a mini-hammock. This luxe float features a drink holder to keep your drink firmly in place and a deliciously soft headrest for ultimate comfort and relaxation. This lounger is so comfy that you just might not want to leave the pool! Yes, it is reallythat comfortable. 
Inflatable Red Lip Couch
Pucker up, buttercup -- FUNBOY's inflatable Red Lip Couch is here! Inspired by the Surrealist movement, this comfortable full-size Lip Couch features a luscious clear red material and totally brings back the inflatable furniture vibes from the '90s. Perfect for poolside lounging, in or out of the water! Complete with a reinforced cup holder to keep your drink locked in place, this inflatable is one you definitely want to check out this summer. 
A Final Word 
So why exactly do pool floats deflate, you ask? 
Pool floats deflate due to changes in air temperature. When your float is left out in the hot sun, the air inside of your inflatable will expand. However, when you leave your float outdoors overnight, the opposite effect will take place, causing your inflatable to deflate. 
Keep your favorite pool floaties in tip-top shape by storing them properly. This will help to prevent your inflatables from deflating. 
For the best pool floats around, head on over to FUNBOY-- the leader in high-quality luxury inflatables!
Sources:
Summer: The Warmest Season | LiveScience
Ultraviolet (UV) Radiation | cancer.org