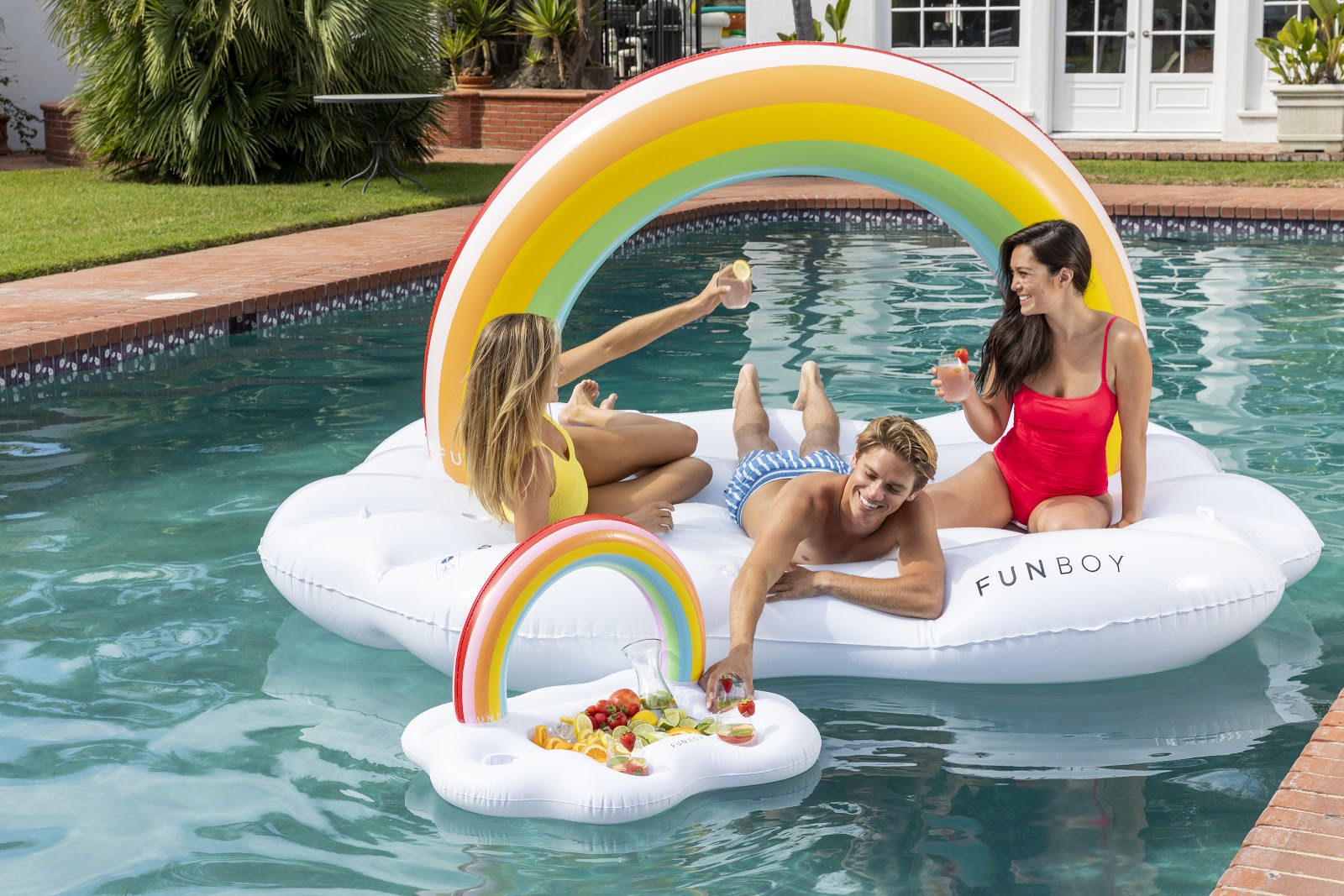 Pool party food ideas to make your next get together amazing
Summertime pool parties are an excellent way to beat the heat, but hosting can present plenty of challenges. From warding off pesky bugs to keeping everything chilled and free of pool water (nobody likes soggy potato chips!), throwing a backyard extravaganza requires some planning ahead.
Don't worry, though! It's possible to create a menu that meets the need of those relaxing in the kiddie pool or cannonballing into the deep end. Here are some foolproof and creative ideas for throwing the best pool party ever. 
Let's dive in!
Make A Floating Snack Bar
On a hot day, the last thing that you're going to want to do is hop off your pool floaty to get a cold beverage or a snack. Plan ahead and float in style onFUNBOY's Retro Pink Convertible Pool Float, fully equipped with a massive front cooler!
Create a floating snack bar and load up the cooler with ice, drinks, fresh fruits, and veggies. Just make sure everyone gets a turn floating on this incredible float made for two. 
Make Your Own Watermelon Grill
Feeling a little bit crafty? Take your boring fruit salad to the next level by transforming it into awatermelon grill! Fill it with raspberries and blackberries to represent the coals, then cook up some watermelon and feta skewers on your newly carved "grill" for a fun, tasty twist on a summer favorite. 
Beef Sliders For A Crowd
Need to feed a large crowd that has worked up a huge appetite swimming in the pool? This simplepress-in-a-pan slider recipe will help you feed the masses without standing in front of a grill for hours on end. We promise.
Prepare the meat mixture and press it onto a cooking sheet a couple of hours before your pool party, refrigerate and cook just before the crowds show up.
To serve, simply wrap one end of the burger in a piece of wax paper or tin foil to keep your burger buns from getting soggy from wet pool hands. Be sure to include all the fixins' like lettuce, tomato, and, dare we say, bacon.Mmmm!
Mediterranean Pasta Salad
Thispasta salad is sure to add a pop of color to your pool party spread. Filled with tasty olives, sun-dried tomatoes, and tangy Romano cheese, your friends will definitely be impressed. 
If you're working with picky eaters and need a modified version, boil some extra tricolor bow-tie pasta and toss them with some butter and romano cheese for a more kid-friendly pasta side dish.  
Fresh Corn Salad
You can't go wrong with acorn salad recipe straight from Ina Garten's cookbook!
Blanch the corn in ice water to stop the cooking process and to keep your corn a beautiful bright and sunny yellow color. Serve this dish chilled or at room temp—either way, your guests are sure to enjoy it. 
Hot Dog Sliders With Mango-Pineapple Salsa
For parties, we shrink lots of foods to slider size, including thesequick hot dogs. Pile on the easy but irresistible fruit salsa for a burst of fresh flavor. 
To make the salsa, all you need to do is whisk lime juice, honey, and salt until blended. Then, simply add mango, pineapple, onion, and pepper, andvoila—you just made a mouth-watering mango-pineapple salsa.Yum!
Lady Bug Pops
Theseladybug pops are oh-so-adorable! Puree strawberries, lemon juice, orange juice, and honey together to create the bright red pops. Then, pour the tasty fruit mixture into an ice cube tray and place a few blueberries in each to create the ladybug spots. Freeze the pops for 1 hour and then insert the lollipop sticks into each cup before freezing once again. 
Ice Cream Freezer Pops
Looking for a tasty treat that will keep everyone cool in the summer heat? Look no further and make ice cream freezer pops!
These delicious ice cream freezer pops made using vanilla ice cream are filled with crushed sandwich cookies, candy-coated chocolate pieces, and peanut butter cups. They can be made using any of your favorite ice cream flavors and add-ins, so don't get brain freeze—get creative!
Creamy Avocado Dip
When ripe avocado is partnered with goat cheese and a hint of lemon juice and then blended into acreamy dip, you can be sure you've got a snack that will earn rave reviews all around. Pair this delicious dip with fresh-cut veggies, crackers, or tortilla chips—or all three! Also, if you're feeding a large crowd, do yourself a favor and make a double batch because this tasty dip is sure to disappear—andfast!
BBQ Bacon-Wrapped Chicken Bites
Barbeque bacon wrapped chicken bites are simple, quick, and delicious—they are sure to be a major hit at your next pool party! All you need to do is wrap pieces of cubed chicken with a small piece of bacon and secure it with a toothpick. Place the bites on a baking sheet or tray and brush each one with as much bbq sauce as your little heart desires. Then, put them in the oven for one hour at 350 degrees. 
Remove these babies from the oven and add just a touch more bbq sauce, and that's it! You just made a mouth-watering dish that is sure to leave all your party guests drooling for more. 
Simple Potatoes
Whether you want to make a classicold-fashioned potato salad, get fancy withbaked potato skins, or provide a variety of potato chips, having a side of potatoes is a must for any poolside party.
Add a bowl of your favorite dip, guacamole, or salsa, and you've got a great way for friends to have a simple snack that will keep them coming back for more. Guaranteed!
Additional Pool Party Prep
Being prepared beforehand will mean you can focus more attention on having fun at the party rather than working behind the scenes during the event. So once you've planned out your delicious food ideas to keep everyone's bellies full and happy, you will want to do a little bit of additional pool party prep. 
For example, check the pool's chemistry to ensure the pool water is properly balanced a day or two in advance. Also, be sure your friends will be able to easily access things like the bathroom or extratowels if needed. 
Have some sunscreen at the ready for your guests who may have forgotten to bring some, as well as a first-aid kit—just in case of an emergency. Be sure your poolside is fully equipped with plenty of ways for everyone to discard their trash so it doesn't end up in the pool or your backyard. 
Don't Forget The Pool Floats!
Is any pool party really ever complete without some totally rad pool floats? We think not! 
If you want to really amp up the fun at this year's bash, don't forget to fill your pool with a few amazing floaties. Here are some of our favorites:
Clear Rainbow Chaise Longer
TheFUNBOY Clear Rainbow Chaise Lounger is no ordinary pool floaty. In fact, it is the ultimate pool accessory and can also be used to relax poolside. Measuring over 70" long with a reinforced cup holder to keep your cocktail firmly in place, once you give this versatile lounger a try, you and your guests will never want to get off. Yes, it is reallythat comfortable!
Clear Pink Glitter Unicorn Float
Okay, so chances are you've seen a handful of happy unicorns floating in the pool these last few years, but have you ever seen aClear Pink Glitter Unicorn? 
FUNBOY reinvented the classic unicorn float with a glittery pink remix. This beautifully designed floaty is made from a clear translucent material tinted with a stunning millennial pink and is filled with shimmery glitter for a wild metallic unicorn floating experience. Who says unicorns don't exist? Definitely not us!
Golf Cart Float
Bring the golf vibes to your pool party this year with the world's first floatingGolf Cart Pool Float made by yours truly here atFUNBOY. This super float is sure to be a hit! 
It is big enough to carry two friends looking to beat the heat under the fringe lined removable mesh sunshade. The integrated backrest provides the optimum upright lounge positioning with enough room to fully extend your legs for ultimate relaxation.
A Final Word
Planning a pool party can be tough, especially if you are in charge of putting together the menu. If you are in need of some totally awesome pool party food ideas, we've got you covered. From a crafty watermelon grill to simple potatoes and everything in between, we have ideas for even the pickiest of eaters!
Sources:
https://www.foodnetwork.com/recipes/food-network-kitchen/beef-sliders-for-a-crowd-3363411
https://tasty.co/recipe/watermelon-grill-with-fruit-skewers
https://www.foodnetwork.com/recipes/food-network-kitchen/mediterranean-pasta-salad-recipe-1973045
https://www.foodnetwork.com/recipes/ina-garten/fresh-corn-salad-recipe-1914351
https://www.tasteofhome.com/recipes/hot-dog-sliders-with-mango-pineapple-salsa/
https://www.foodnetwork.com/recipes/giada-de-laurentiis/lady-bug-pops-recipe-2014816
https://www.foodnetwork.com/recipes/ree-drummond/ice-cream-freezer-pops-recipe-2125048
https://www.thekitchn.com/recipe-creamy-avocado-dip-244020
https://lilluna.com/barbecue-bacon-and-chicken-bites/
https://www.allrecipes.com/recipe/16729/old-fashioned-potato-salad/
https://www.bettycrocker.com/recipes/cheesy-bacon-potato-skins/17a87a68-515f-4b7d-999a-b0be4e240020