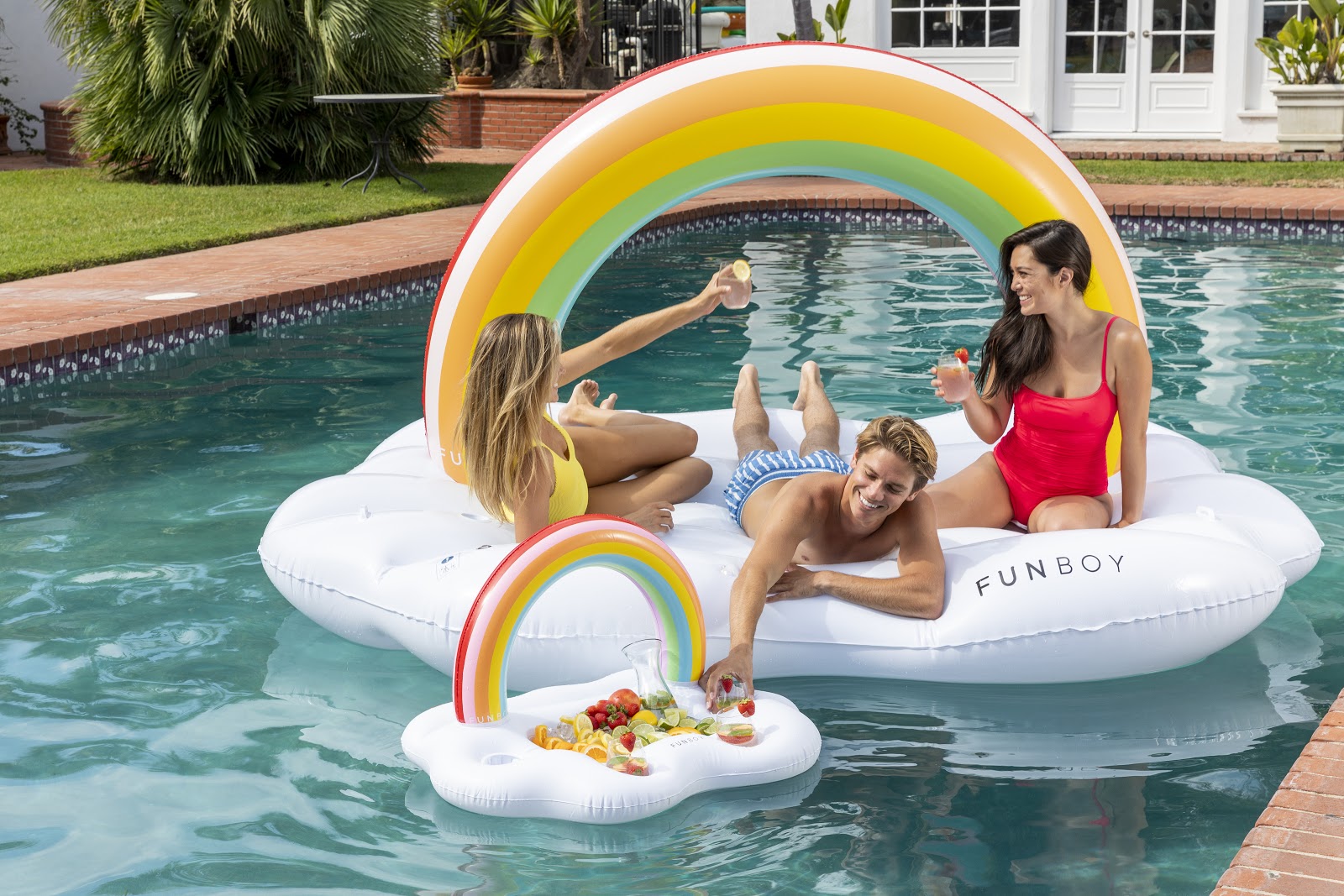 10 must have swimming pool accessories
Summer is, without a doubt, the best time of the year. Sure, the little ones are home 24/7 now, which can turn any house into a zoo overnight. And then there is also the never-ending stream of laundry that seems to multiply ten-fold once school lets out. 
But summer also means backyard BBQs and toasting smores and warm nights under the vast indigo sky spent catching fireflies. It means family vacations to new and exciting places as well as picnics at the park. Bike riding around the neighborhood and listening for the notorious sound of the ice cream truck barreling down the street. It means sleeping in a little longer and staying out a little later. And last—but most certainly not least—summer means days spent by the pool. Ahhhh!
The only thing that can make your summer day by the pool even better is by incorporating some totally awesome pool accessories. Not sure where to start FUNBOY'sgot your back! Keep reading for the 10 must-have swimming pool accessories that you need to have this summer season. 
Inflatable Pool Floats 
If you're on social media, chances are you've seen numerous photos of people floating on colorful unicorns, happy flamingos, and everything in between. But, have you ever laid your eyes on a Golf Cart float made for two? Or what about a Clear Rainow Chaise that is so incredibly comfortable it doubles as a water and land lounger? 
These days, the market is heavily saturated with all kinds of fun and magical inflatables, but for the best of the best, look no further and check out FUNBOY. From tube floats and loungers to whimsical inflatables and floating daybeds, FUBOY has you covered.
Here are some of the coolest and most comfortable pool floats for you to check out for your best summer yet!
Clear Pink Mesh Lounger
If your goal is to float all summer long while keeping cool in the crisp pool water, then this Clear Pink Mesh Lounger is for you! This beautifully simple yet luxurious float design has a perfectly sculpted shape that will hug your body as if you were floating in a mini-hammock. 
Kiss all your worries goodbye as you sip on your favorite summer drink, which is kept firmly in place with the reinforced drink holder. This luxe lounger also features a comfy headrest to cradle your head for maximum relaxation.


Rainbow Chaise Lounger 
Another deliciously comfortable lounger that you definitely do not want to go without this summer is the FUNBOY Rainbow Chaise Longer—the ultimate floating chaise lounge chair. This unique tri-color clear design creates a fanciful ombre effect on the water that is unlike any other lounger on the market. The extra-thick, smooth, transparent material allows you to see through the chair and directly into the water—creating magical color hues that change throughout the day depending on the light. 
And the best part? This versatile Rainbow Chaise Lounger can be used in the water and on land! Use it to float in the pool or for ultimate relaxation on the grass or sand.  
Banana Tube Float 
Go B-A-N-A-N-A-S this summer with the Banana Tube Float! Sure, there may be tons of tubes on the market that you can pick from, but nothing is as adorably cute and comfortable as this one from FUNBOY. 
With big bright bananas adorn a pastel pink tube float and a reinforced cup holder to keep your beverage of choice in place, you'll never want to hop off this luxe float. Feeling extra fruity this summer season? Pair your Banana Float with the just-as-adorable Tropical Jungle Tube Float! This duo gives off major summer vibes and is perfect for any day by the pool.      
Golf Cart Float 
With the pandemic sweeping over the nation, golf courses are some of the only places that are still open. Even on your days off from hitting the course, bring thegolf vibes to your own backyard with the world's first floating Golf Cart Float, from yours truly—FUNBOY. 
Two friends can lounge under the fringed removable mesh sunshade while dreaming of brighter days and sipping on their favorite summer cocktail. The integrated backrest provides the optimum upright lounge positioning with enough room to fully extend your legs.    
Rainbow Daybed Pool Raft & Float 
What if we told you that you could sprawl out on a pool float measuring over 50 square feet of lounging paradise while soaking up the sun's rays under a magical rainbow—would you believe us? Well, you should! 
Float in luxury this summer with FUNBOY's Inflatable Rainbow Daybed Pool Raft & Float. This magical float takes relaxation to a whole new level and is sure to be a hit at your next pool party. Pair it with the Rainbow Cloud Floating Bar, which includes four cup holders for four friends and a double reinforced central drink cooler to keep cocktails cold all day long.    

Beach Towels
In addition to a few luxurious pool floats, you are also going to need some other swimming pool accessories, such as a couple of great towels! How else are you and your pals going to quickly dry off? Get yourself a few top-quality towels like the ones found at FUNBOY. 
We love the FUNBOY Turkish Towel because it is woven with the perfect weight and softness—making it great for beach adventures, backyard hangs, and pool time extravaganzas. The Villa Funboy Beach Towel is also super cozy and is without a doubt a perfect summer accessory because it can be placed on the sand, on a lounger, or even worn as a chic wrap. From beautifully hand-designed Spiral Tie Dye Towels to Vintage Towels with a Cali Print, FUNBOY has a cozy towel for everyone.    
Lawn Chairs
When you want to hop out of the pool but aren't ready to leave the party, a great lawn chair makes for a perfect solution! However, not all lawn chairs are created equal. When picking your lawn chair this summer, be sure to purchase one that is made of top-notch quality like the ones found at FUNBOY. 
Inspired by vintage lawn chairs, these FUNBOY Lawn Chairs were built and designed in the beautiful USA with a vintage twist. Foldable, lightweight, and easy to carry—the FUNBOY Retro Lawn Chair is the perfect addition to all of your summer hangouts, wherever they may be. With rustproof aluminum framing and UV, mold, and mildew resistant premium webbing, these chairs were built to last.  
Beach Tote
If you're going to spend a day by the pool, you'll need a towel, sunscreen, your favorite pair of sunnies, and maybe even a good read. Rather than trying to balance all of these items in your arms, get yourself an irresistibly cute beach tote!
Add some iridescent pizzaz to your pool day with the FUNBOY Iridescent Beach Bag. Designed in an iridescent transparent PVC with a stunning canary yellow trim, this bag is ready for chic summer fun. And the best part? It's large enough to fit multiple beach towels andall of your summer essentials. 
Wanting something a little more vibrant? Go for FUNBOY's Clear Orange Beach Tote, which also features a bright yellow canary trim. Complete with a matching detachable envelope pouch for all your extra special goodies, this bag is a perfect poolside accessory.
Water Mist
The last must-have pool accessory on our list that you definitely don't want to go without is FUNBOY's Aqua Hydrating Water Mist. In the summer, it gets hot—like, really hot. Cool off with this powerful yet gentle mist infused with rosehip and pure water to hydrate and refresh your skin with a constant micro-mist spray. Sit back, relax, and mist anytime to cool off. 
A Final Word 
Just picture it: Summer tunes are blasting while the grill's getting fired up. Friends are on their way over for inflatable pool float races and ultimate lounging relaxation. With temperatures climbing, cooling off in the pool sounds pretty heavenly right about now. And with great pool accessories like the ones found at FUNBOY, we can promise one thing: Your backyard hang by the pool won't be anything less than amazing. 
Whether you're looking to get warm and cozy in a towel or soak up the sun's rays on an inflatable, FUNBOY can help!
Sources:
https://whatscookingamerica.net/Cookie/Smores/Smores.htm
https://www.nytimes.com/2020/05/09/dining/coronavirus-how-to-have-a-picnic-safely.html
https://www.livescience.com/50326-what-is-ultraviolet-light.html