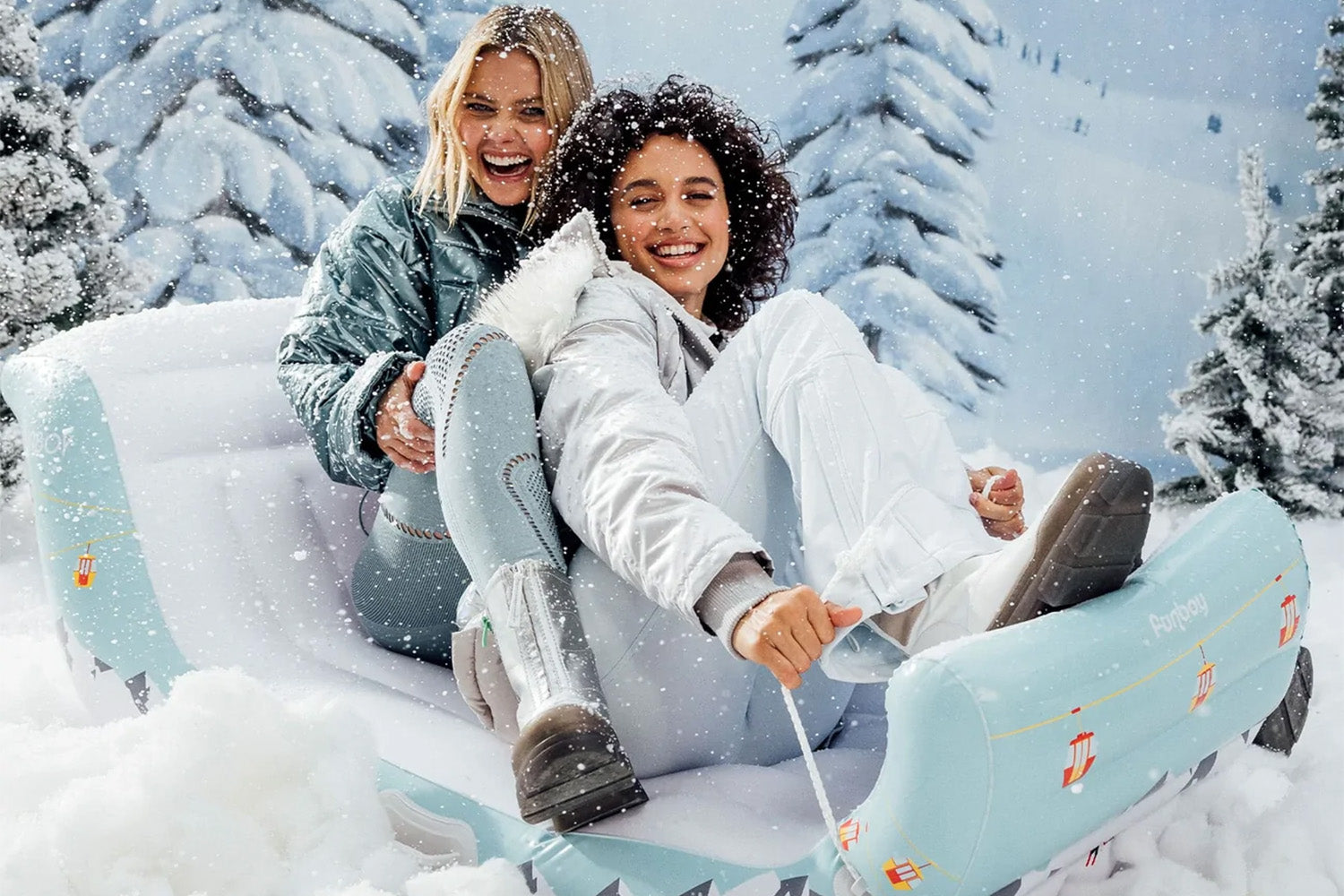 How To Throw a Birthday Sleepover Party: 9 Fun Ideas
Look no further if you're in need of some fun inspo for your upcoming birthday sleepover party. In this post, we share our favorite tips and tricks to help make the shin-dig a success. From themed activities to tasty snacks, FUNBOY has you covered.
So get ready to throw an unforgettable celebration that everyone is sure to love — here are nine fun ideas to level up your next slumber party:
1. Throw a Pajama Party
A pajama party is a perfectly fun and cozy way to celebrate a birthday sleepover. Not only will guests get to rock their favorite jammies, but they'll also be able to enjoy all sorts of fun slumber party activities, like pillow fights, truth or dare, and charades. Party games are a classic for a dang good reason. 
Of course, no pajama party would be complete without a movie marathon. Guests can curl up with blankets and pillows to watch their favorite flicks. For a truly memorable movie night, set up an ice cream or a popcorn bar. Have a few toppings to choose from (hint: many ice cream and popcorn toppings are totally interchangeable). 
Best of all, when the party's over, everyone can just crawl into bed and go to sleep. But say goodbye to sweaty sleeping bags; it's time for indoor camping to level up. 
Pro Tip:Hosting a sleepover party for your little one? Make their birthday extra special with our comfy-cozy line of Kids' Sleepover Beds. Whether your tiny tot wants to cruise in a convertible or soar in an airplane, bring these FUNBOY air mattresses to bed for a funsnooze. No more complaining about having to go to bed — a dream come true for parents everywhere. 
The flocked material makes it soft as a cloud but a cloud that you can inflate inside your home with a foot pedal. PS: the foot pedal works with your FUNBOY snow inflatable too.
2. Share Stories Around a Campfire
A campfire is a perfect place to gather for a birthday sleepover party. Not only does it provide warmth and a cozy atmosphere, but it's also a natural focal point for telling stories.
Here's a sleepover game with a dash of nostalgia: As guests arrive, have them write down their favorite childhood story on a slip of paper.
Then, once everyone is settled around the fire with a cup of hot cocoa in hand, take turns reading the stories aloud. You can even put a fun twist on the tradition by making s'mores over the open flames or adding some spooky elements, such as telling Halloween-ready ghost stories. 
3. Plan a Winter Wonderland 
What's more magical than a winter wonderland, you ask? A winter wonderland birthday party, of course.
To set the scene:
Start by hanging white twinkle lights around the room.
Add some festive touches with snowflake garlands and sparkly tinsel.
Go nuts with fake snow, using it to decorate table spreads and countertops. 
Set up a hot chocolate bar fully equipt with all the fixin's (think: marshmallows, peppermint sticks, and whipped cream).
Play some holiday songs like Santa Baby, Feliz Navidad,and Rudolph the Rednosed Reindeer.
Ask guests to don their ugliest Christmas sweaters and place birthday gifts under the tree. Play fun games like "pin the carrot on the snowman," "bobbing for snowballs," and "musical snowflakes."
Feelin' real extra? You can also order ice sculptures and sleigh rides — the sky's the limit.
Pro Tip:Has it snowed recently? Consider yourself lucky and invite your party guests to bring their favorite sleds for a magical time outdoors. Ride down the snow-covered hills of your neighborhood in style with our Retro Plaid Toboggan Snow Sled or Metallic Champagne Snowmobile Sled.
4. Set Up a Photo Booth
A photo booth is a fantastic way to capture memories and have some laughs with your pals. All you need is a camera, some props, and a few friends. 
First, decide on a theme for your photo booth.
You can go with something festive like balloons and streamers or even something a bit more unique like a Hollywood or 1950s diner theme. Once you've got your theme, set up the space, make sure there's plenty of light, and then it's time to have some fun.
Strike a pose with your friends, make silly faces, and dress up in costumes. The photo booth will be a huge hit at your party, and best of all, you'll have some great memories to look back on. 
Most importantly, any props in the photo booth can make instant party favors, like sleep masks that your guests can take home. 
5. Host a Snowball Fight
Who doesn't love a good snowball fight? It's the ultimate way to enjoy the wonderful winter weather while engaging in some friendly competition. What better chance to host a snowball fight than at a birthday sleepover party? Invite your comrades, set some ground rules, divide into teams, and let the cold war begin! 
Pro Tip:When the snowball fight is over, you can use your Retro Plaid Toboggan to haul your birthday presents back home. OR, you can have the losing team do it — your choice. 
6. Enjoy a Nature Hike
For a sleepover idea that will be remembered for many years to come, take the partygoers on a nature hike. It's not only a whole lot of fun, but hiking provides the perfect opportunity to get some healthy movement and fresh air while learning about the natural world around you.
Bring a map of the area as well as a few field guides to help identify the plants and animals you spot along the way. Bring a classic game night element to the day by making it a scavenger hunt.
Of course, don't forget the refreshments! Stock up on plenty of next-level snacks and drinks to keep everyone happy and hydrated. Make it b-day themed with sprinkles in the trail mix or keep it on the party theme. 
7. Make It a Karaoke Night 
A karaoke party is sure to liven up any fun sleepover. All you need is a karaoke machine and some good tunes. 
Then, just let the good times roll. Some of the best karaoke songs include:
"Walking on Sunshine" by Katrina and The Waves
"A Thousand Miles" by Vanessa Carlton
"Mr. Brightside" by The Killers
"Oops… I Did it Again" by Britney Spears
"Bohemian Rhapsody" by Queen
"Hey Ya" by Outkast
"Truth Hurts" by Lizzo
8. Have Fun With Food
If you ask us, a birthday sleepover party is an awesome opportunity to have fun with food! Start by setting the mood with some festive decorations. Then, get creative with the menu.
Serve up a variety of small bites and colorful finger foods that everyone will enjoy (think: shrimp cocktail, fried pickles, meatballs, and tea sandwiches). You could also set up a "build-your-own pizza" bar or a "decorate-your-own cupcake" station. It's a perfect DIY midnight snack.
Pro Tip: Don't want to spend hours in the kitchen? We don't blame you — host a potluck. Ask all of your party guests to bring a tasty dish with them and spend the evening enjoying each other's creations. 
9. Build a Pillow Fort
A famous slumber party idea: build a pillow fort! It's easy to build the ultimate pillow fort.
All you need is a stack of pillows, some linens, and your imagination:
Choose a location for your fort.
Start stacking the pillows to create the walls. Once the walls are tall enough, drape the linens over them to create a roof. Couches and chairs also make great starting pieces.
Add some pillows inside for comfort, throw up a few decorations like string lights, and you're done.
Pro Tip:For a glamping experience, consider building a fort in your backyard. You can fill a tent with comfy-cozy pillows and blankets or even a kiddie pool like our Clear Pink Heart Inflatable Pool. This way, you can spend your birthday with your best friends forever enjoying a night under the stars.
Pro Tip 2: Infuse a craft element. We're talking about making friendship bracelets or decorating pillowcases with fabric markers. Or, go full glamping and do manicures (matching nail polish for everyone). Add in some face masks to get your glow in and relax under the sky. 
Bottom Line
Throwing a birthday sleepover party is a great way to celebrate with your friends and family — and it doesn't have to be difficult!
Whether you decide to throw a classic pajama party fully equipped with board games and rom-coms or whip out the 'ol karaoke machine to sing your heart out, these fun ideas will make the planning process a breeze and ensure that you and your loved ones have a wonderful time. 
So what are you waiting for? Start planning your next birthday sleepover party today.
Sources:
11 Best Scary Ghost Stories That Will Scare Your Socks Off | Country Living
Lessons in the Art of Pillow Fort Construction | The New York Times
Benefits of Hiking - Trails & Hiking | U.S. National Park Service