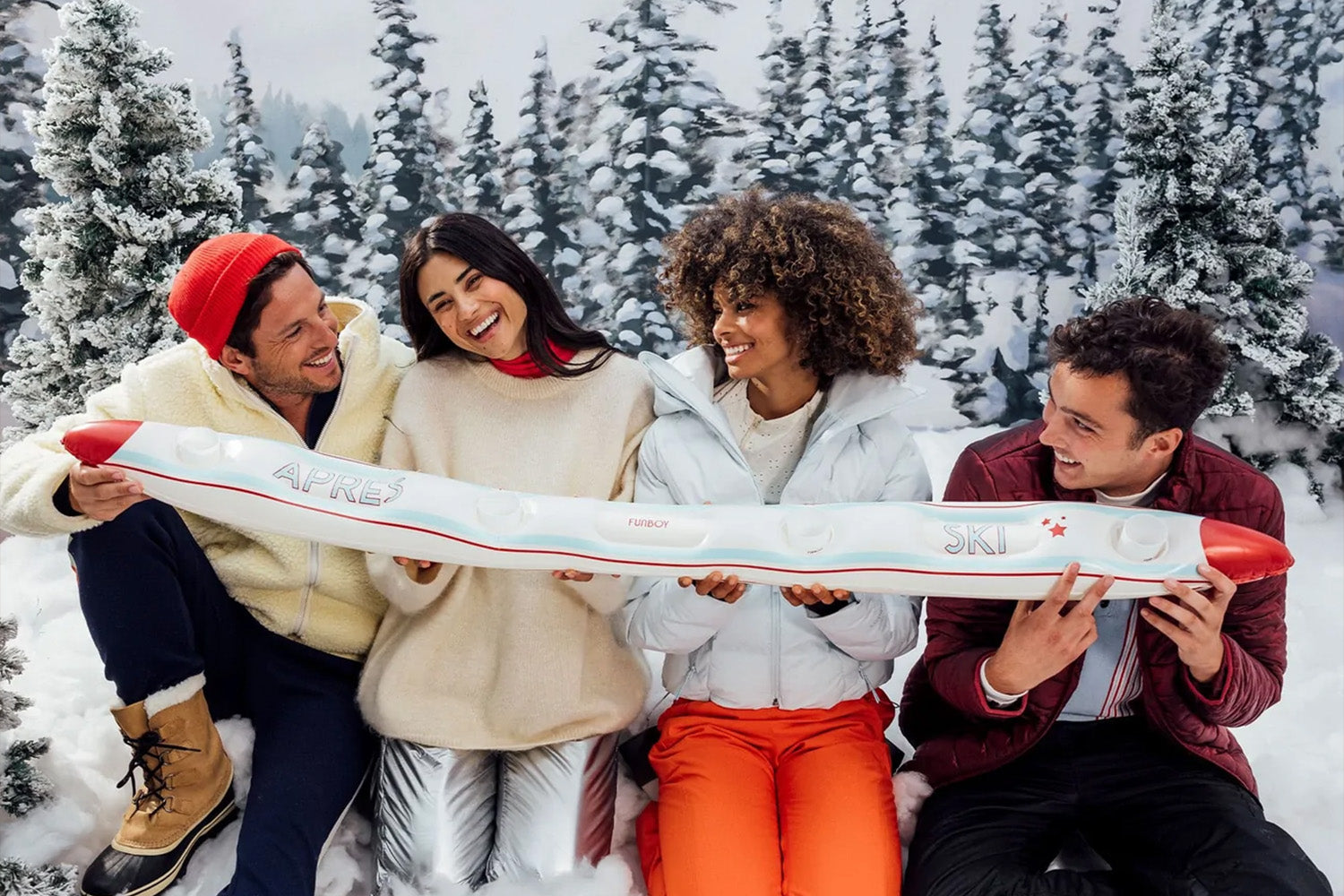 Snow Tubing in Maryland: 5 Best Places
Ah, Maryland. How we love you so. Known for its diverse geography, colorful culture, and drool-worthy seafood, the Old Line State is a land that we adore — especially when the temps drop in the winter and it's time to dust off the old snow tube. 
When thinking about snow tubing, Maryland might not be the first locale that comes to mind, but it should. Here's why: The state is full of snowy destinations that are second to none. You just need to know where to look. 
In this post, we're taking a trip up north to uncover the best places to go snow tubing in Maryland. So if you're hoping to make your winter vacation to the Old Line State your best one yet — grab your favorite FUNBOY snow tube and keep reading.
Wisp Resort, McHenry
First on the list is none other than the Wisp Resort in McHenry, Maryland. Nestled on the shores of beautiful Deep Creek Lake, this ski resort is nothing short of magical. It has over 30 fantastic trails for skiing and snowboarding, as well as a ton of other exciting winter activities like snowshoeing, snowmobiling, ice skating, and of course, snow tubing. 
The Wisp Snow Tubing park has been open for a couple of decades now and is one of the most popular winter attractions the resort has to offer. Ideal for folks of all ages, the park features ten pristine tube slides, lots of snow tubes, and two magic carpet rides to take riders back uphill. 
Looking for even bigger thrills? Check out the fast Wisp Mountain Coaster, which is a cross between a roller coaster and an alpine slide. Finish the day with a warm mug of hot cocoa or an Aprés Ski ShotSki® (or two) with your friends.
Snow Flow Mountain, National Harbor
Next, we have Snow Flow Mountain at Gaylord National Harbor. This world-class winter attraction is like no other, offering thrilling speeds on bumper-safe icy terrain. 
Hop on an inner tube and safely race down an entirely ice-covered hill. Nervous about picking up too much speed? Don't worry: There's a cushy bumper at the bottom that will end your ride. 
Note:As with many other winter hot spots in the Old Line State, Snow Flow Mountain is one that gets packed pretty quickly. To ensure a turn down one of the six icey slides, it's recommended to book your session ahead of time. 
Herring Run Park, Baltimore
Prefer going somewhere that's a little more low-key? Grab the kids, pack your fav inflatable sled, and head on over to Herring Run Park in Baltimore. 
Located four miles northeast of downtown and can be found right next to Lake Montebello, the park offers a variety of rolling hills that have become one of the top places for sledding fun in the Baltimore area. 
Keep in mind that this is a sled-at-your-own-risk kind of sledding adventure — you won't find employees roaming the park to keep things safe. When picking a hill to sled down, opt for one that is free from potential hazards like boulders, trees, and fences. Don't sled too close to the road, and always go with a buddy. 
Come summer, Lake Montebello is a fishing destination with a four-fish limit. At 410 million gallons, this man-made lake is certainly something to see. 
Patterson Park, Baltimore
Another awesome winter hot spot in the city of Baltimore, Patterson Park, is a top-notch place for hours of snow tubing. There are stellar hills located throughout the whole park, but nothing beats the sledding hill located near the Pagoda, which can be found on the east side. Of all the hills, the one by Pagoda is without a doubt the biggest, offering a thrilling ride to the bottom.
That said, if the big hill isn't really your cup of tea or if you have little ones, there are many smaller hills located in the 155-acre park. Just don't forget to bring your own sled, as the park doesn't offer any for use. 
Need a sled for your pint-sized sledder? We've got you covered. Our FUNBOY Kids Sleds are made with the finest materials for durability and comfort. Plus, not to toot our own horn or anything, but we have some of the coolest designs around (toot, toot!). 
From the Candy Striped Snow Tube to the Groovy Rocket Sled, your kids will love racing down the sledding hill in style. And the best part? 
All of our winter sleds and toboggans are inflatable, so you can easily take them with you on your travels to Maryland without giving up too much luggage space. 
Pinecliff Park, Frederick
Last on the list, but certainly not least, we have Pinecliff Park in Frederick, Maryland. Perfect for people of all ages, the sledding hill at this park may not look like much from the bottom, but once you get to the top, you may find that it's a wee bit intimidating. Why? Because it's especially steep. 
Not to worry, though, as there's plenty of space at the bottom for momentum to manifest for quite a distance. There are also soft fences on both sides of the hill, so you don't have to be concerned about your kiddo being propelled elsewhere or into the road.
Want to take a break from snow tubing? The park also has an ice skating pond. That said, it's only open as long as the thickness of the ice is at least four inches, and there are no rough, icy patches, open water, or other safety hazards, so plan accordingly.
This park truly has it all — a dog park, picnic areas, a nature preserve, group fitness classes (Zumba, pilates, yoga), and the Children's Museum of Rose Hill Manor. Book a manor tour and learn all about the history of Frederick County through the log cabin, blacksmith shop, manor house, barns, and more!
Tips for Snow Tubing Success
Now that you're up to speed on the best places to go snow tubing in Maryland, we bet you're just chomping at the bit to hit the slopes. But pump the brakes for a hot sec — there are some things you should know to make the experience not only exciting but safe, too. With this in mind, here are a few tips for snow tubing success:
Tip #1: Dress Warm
Unless you've spent a whole lot of time in especially cold climates, you may not be familiar with how to dress when snow tubing. Basically, to beat the chill, layers are your friend. 
Opt for a thermal base layer to keep moisture off your body, then a mid-layer to provide insulation against the cold, and finally, a waterproof outer layer to keep melting snow away. Throw on a warm hat, cozy mittens, some comfy boots, and you're good to go.
Tip #2: Be Sun Smart
Believe it or not, snow is highly reflective of UV radiation. In fact, fresh snow reflects even more of the sun's harmful UV rays than water (we know *gasp*).
This means that any exposed skin is at risk of sunburn — even on cloudy days. So before heading outside to sled, do yourself a favor and slather on some 30+ SPF sunscreen. Trust us; your skin will thank you later. 
Tip #3: Stay Hydrated
Did you know that hypothermia sets in much faster when you're dehydrated? 
Yup, it's true. This is why keeping yourself adequately hydrated as you play in the snow is of the utmost importance. As dehydration takes its toll, you might notice that you feel dizzy, tired, or even a little nauseated — not exactly how you want to feel when vacationing in Maryland! So drink up, stay hydrated, and be safe.
The Final Word
And there you have it — the best places to go snow tubing in Maryland. Whether you're a Marylander yourself or simply visiting the Old Line State, these snow tubing destinations surely won't disappoint. Just be sure to dress warm, stay hydrated, and bring a high-quality snow tube along with you for hours of fun in the winter sun.
Not sure where to find an awesome sled? Check out our inventory of luxe FUNBOY snow sleds and inflatable toboggans. Whether you have a need for speed, prefer to keep things slow and steady, or are simply shopping for a tiny tot, we have something to tickle everyone's fancy. 
Happy sledding!
Sources:
Maryland's Nicknames | Maryland.Gov
Sun protection at the snow | Better Health Channel
Are you more dehydrated in the winter? | Intermountain Health Care
Sled Run & Ice Skating Pond | Frederick County Parks and Recreation, MD