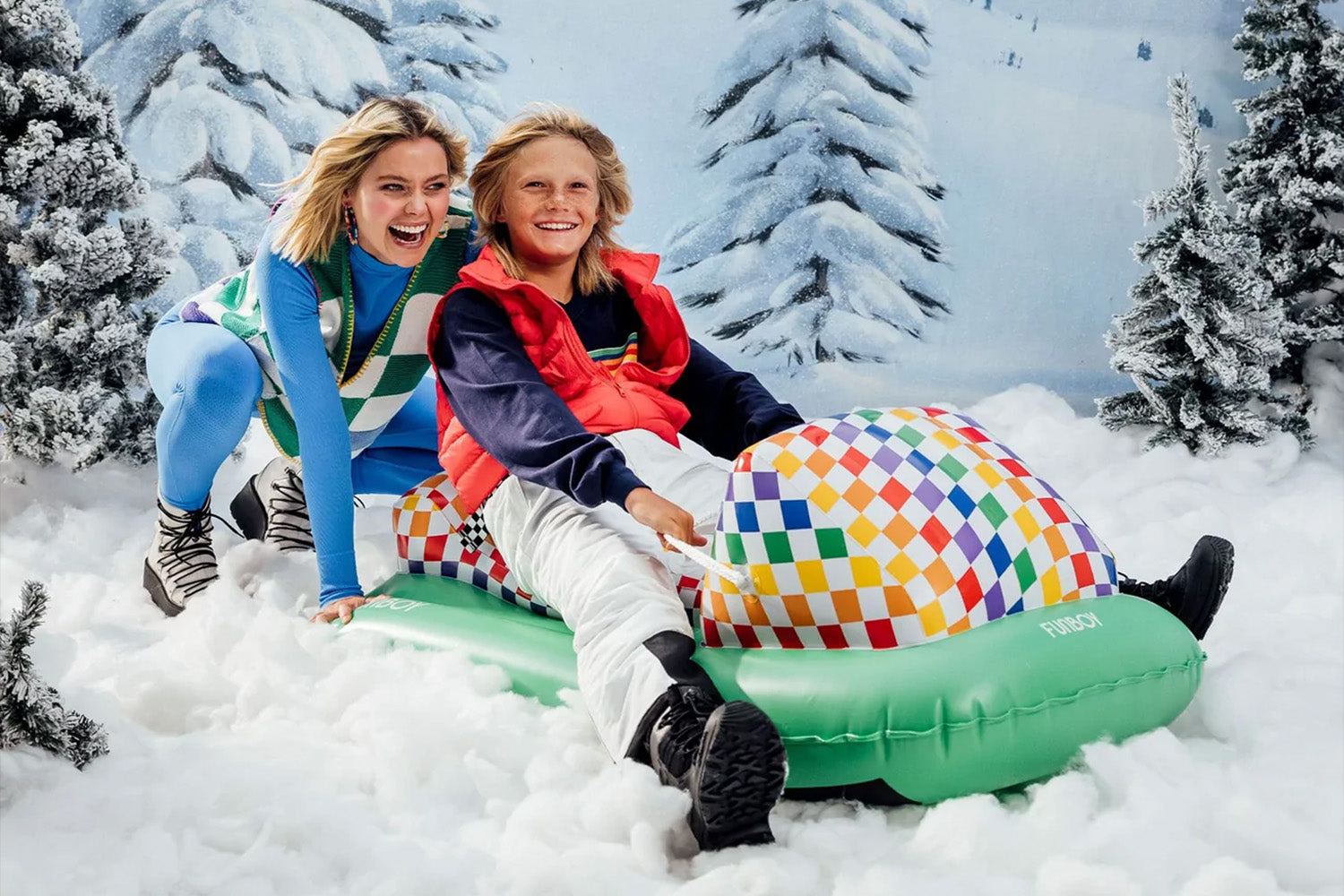 Where To Go Snow Tubing in Massachusetts
Let's be honest: Snow tubing is the best. Sure, snowball fights are a hoot, and there's no denying our love for après ski, but when it comes to winter activities, snow tubing simply can't be beat — especially when your snowy adventure takes you to the Bay State.
Known for its fascinating colonial history and world-famous seafood, Massachusetts is an experience like no other and one that you should definitely check out in the winter. Why? Because New England gets a whole lot of snow when the temps drop, making it the ultimate season for snow tubing fun!
Snow tubing is a popular, fast-paced winter activity that's easy and accessible for all ages. It doesn't require a lot of skill or physical exertion. Instead, the beloved winter pastime is a low-key way to have fun with friends and family on a chilly day. 
Wondering where to take your favorite snow sled for a ride when visiting Massachusetts? Keep reading. 
Snow Tubing in Boston
When it comes to snow tubing, Bostonians agree — the Hub of the Universe has a lot to offer. 
Here are some of the best sledding and snow-tubing spots around Boston:
Franklin Park
Franklin Park is Boston's largest open space and the crowning jewel of Frederick Law Olmsted's Emerald Necklace. It offers plenty of indoor and outdoor activities — including snow tubing and sledding. There's also a zoo if you want to take a break from the snow to visit some friendly animals. 
The Sugar Bowl
Jamaica Pond's Sugar Bowl is a family-friendly place to take the little ones snow tubing. It's an inverted hill, meaning you can drop in on one end and swing back on the other side without any worry of sledding into the street. In other words, there are no cars.
To get there, all you have to do is take the Orange Line to Green Street and walk toward Jamaica Pond. It's a little bit of a stroll; you may want to leave your heavy-duty sled at home and opt for an inflatable one — like our Rainbow Checkered Skimobile or the Happy Face Snow Tube. Super cute and incredibly easy to inflate. What's not to love?
Brookline Parks
Close to the city and a whole lot of fun, Brookline offers three sled-friendly parks: Larz Anderson Park, Corey Hill Park, and Amory Park. 
Arguably the most celebrated park in the area, Larz Anderson Park offers both large and small sledding hills, making it perfect for snow tubing newbies and pros alike. The park also offers an ice skating rink and a delicious snack bar that's fully equipped with all the goodies like hot cocoa, warm soup, and more. 
Corey Hill Park is the next sled-friendly park and boasts an incredible view of the city. It also offers several short, steep slopes, making it an uber-popular spot for those seeking a thrill. 
Finally, we have Armory Park, which has gentle bunny runs for tiny sledders to slide down safely. When visiting this kid-friendly location, don't forget your little one's favorite FUNBOY Snow Sled. 
Snow Tubing in Western Mass
Is your winter vacay taking you to Western Massachusetts? Grab your snow tube and check out these amazing sledding hills: 
Berkshire East Snow Tubing Park
This fun-filled park features three 500" long tubing lanes that are groomed to snow tubing perfection. Their fast Pepsi of Brattleboro tubes will zip you to the bottom, and the magic carpet will carry you back up for more.
Located on the far-right side of the ski resort near the West Lodge, the Snow Tubing Center books up quickly, so be sure to make reservations ahead of time.
Ashfield Community Golf Course
For classic New England snow tubing and sledding, grab your handy-dandy inflatable sled and head on over to the Ashfield Community Golf Course. Located on Norton Hill Road, this family-friendly hot spot has plenty of rolling hills and open space to adventure and explore. 
Keep in mind that this is a sled-at-your-own-risk location, so be on the lookout for boulders, sticks, trees, or any other hazards that could potentially damper your winter fun. Also, bring a buddy.
Ski Butternut
A well-loved family ski resort in the Berkshires of Western Massachusetts, Ski Butternut is a skier's dream. It's located on Great Barrington's Butternut Mountain and offers ski and snowboarding lessons and rentals. But that's not all — Ski Butternut is also a prime location for some good old-fashioned snow tubing.
With 11 magical lanes and hundreds of snow tubes, Butternut's snow tubing park is fun for all ages and activity levels. Then, if you want to take a break from flying down the slopes, the mountain also offers a variety of excellent trails for snowshoeing, hiking, and more.
Honorable Mentions
Truth be told, Massachusetts is chock-full of places to go snow tubing, but we can't get to them all. That said, although we've already covered our favorite hot spots, here are some honorable mentions that are still worthy of a visit:
TubaSlide at Ski Ward Area — offering 12 lanes, two lifts, and more than 200 snow tubes, this destination is absolutely bucket-list-worthy. 
Nashoba Valley's Snow Tubing Park — with six pristine lanes, you can clock in some serious sledding time at this location. Plus, it's not too far of a trek from the city. 
Ski Ward at Shrewsbury — with eight gorgeous lanes, lots of snow tubes, and two lifts, sledding at this hot spot is a blast. And if you're a bit of a thrill seeker, you can go after the sun sets for snow tubing in the dark!
Camden Snow Bowl — okay, so this isn't quite snow tubing, but the toboggan chute will still have you zooming across the frozen Hosmer Pond at warp speed. If going fast is your M.O., you won't want to miss checking out what Camden has to offer. 
Bousquet Mountain Ski Area — with over 100 tubes, ten lanes, and a Magic Carpet Lift that makes getting back to the top of the hill easy-peasy, this destination is a fantastic one for the entire family. Plus, with 100 percent snow-making coverage, you'll never have to worry whether there's enough snow to sled on or not. 
Hospital Hill Sled — an immensely popular location for sledding after a winter storm, Hospital Hill may not have all the bells and whistles of a ski resort, but if you're just wanting to ride your snow tube for hours on end, this is the place to go. 
Tips for a Great Snow Tubing Experience
When going snow tubing, there are a few things to keep in mind to make your experience as fun and safe as possible. 
Before you head out, make sure to wear warm, weather-appropriate clothing. Snow tubing can get very cold, so bring a warm jacket or sweater. Better yet, bring both — layers are best! 
Wear comfortable snow boots. You don't want to be shuffling around in slippery shoes while tubing. Not only can this leave you with a blister or two, but opting for the wrong footwear can lead to trips and falls.
Finally, bring some snacks to enjoy while you're tubing. Enjoying some tasty treats while you're sliding will keep you warm, energized, and ready to go again and again!
The Final Word
There you have it — the best places to go snow tubing in Massachusetts. Whether you live in MA or are simply visiting in the winter, these sledding hot spots surely won't disappoint. 
Snow tubing is a great way to get outside and enjoy the fresh winter air. It's easy and accessible for people of all ages and is a fantastic way to spend time with friends and family. There are many places to go snow tubing in New England, so be sure to check them out this winter and enjoy the fun and festive atmosphere that comes with this fan-favorite winter pastime. 
Here at FUNBOY, we're all about having FUN. That's why we created some of the coolest snow sleds around. From inflatable snowmobiles and tubes to sleighs and toboggans, you can count on us to have just what you need to make your winter vacation to Massachusetts an unforgettable one. 
Check us out today and hit the slopes tomorrow!
Sources:
What city was once known as 'The Athens of America'? | WHYY
Magic carpet ski lifts a boon to novice skiers, snowboarders | Milwaukee Journal Sentinel