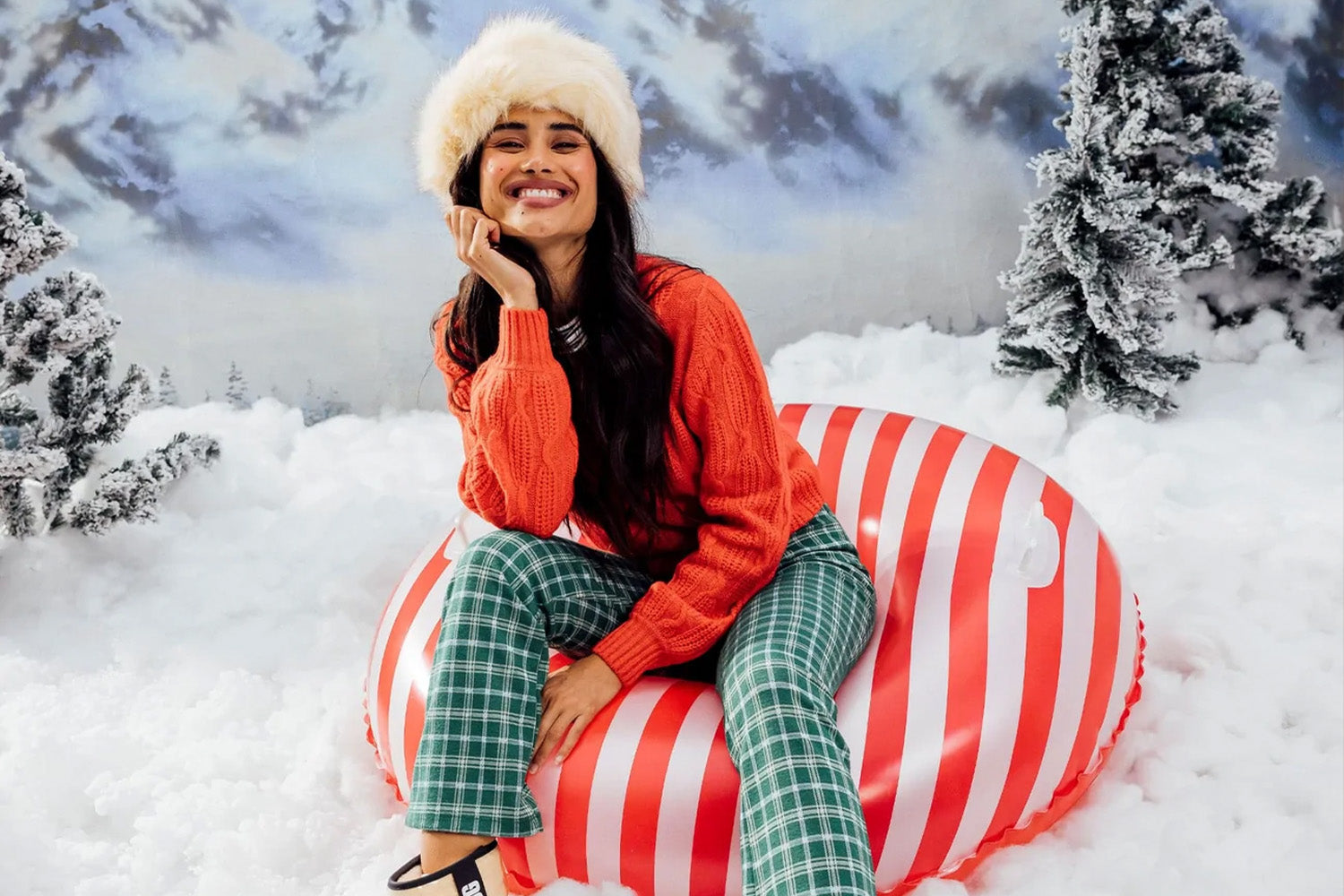 Best Places To Go Snow Tubing in New York
Who doesn't like having fun? Especially when an activity requires no such particular skill to enjoy, you definitely have to try it out!
One of those activities which won't ask you for specific expertise is snow tubing. All you need to do is dress warmly, grab your favorite FUNBOY snow tube and prepare for a day of fun in the winter sun.
If you're looking for the best places to go snow tubing in New York, look no more, as we've got you covered! Here are our top favorite places you can visit and explore with your family and friends during your trip to The Empire State:
Maple Ridge Center, Lowville
Looking for a winter hot spot that you can enjoy for hours on end? If so, then the snow park at Maple Ridge Center in Lowville is definitely for you. With more than eight pristine lanes that are over 1200 feet long with a 100-foot vertical drop, you can experience a long, exciting ride to the bottom. 
Furthermore, the stunning view of the Adirondacks and Black River Valley is just the cherry on top, providing you with a picturesque winter adventure that's second to none. 
Note:Each tubing session at the Maple Ridge Center lasts for around two hours. We advise you to reach the destination 20 to 30 minutes before your assigned session time to avoid waiting too long.
Mountain Creek, Vernon
Revive those old memories of fun slide rides that you once enjoyed as a child at the Mountain Creek Resort in Vernon. This popular destination is located right outside of New York, but trust us — it's worth the drive. Why? 
It's one of the largest snow tubing parks in the area and features a snow tubing slope that spans over five beautiful acres. So throw on some warm clothes, grab your favorite snow tube, and head out to Vernon for a day of snow tubing fun.
Not sure where to find a snow tube that's as awesome as you are? Check out our inventory of top-quality FUNBOY Sleds and Inflatable Toboggans. Whether you have a need for speed or prefer a slow, steady pace, you can count on us to have just the right sled for you and all of your winter wonderland adventures. 
Hunter Mountain, Hunter
Hunter Mountain should definitely be your go-to option when visiting the Empire state if you want to enjoy one of the longest snow tube runs around. This popular mountain has a snow tubing park that will let you enjoy the greatest adventures imaginable with your family and friends.
Giving you all the winter feels with utmost enjoyment, Hunter Mountain features long tube runs of around 1,000 feet and hundreds of snow tubes. What makes it an even better option) when compared to other snow tubing hotspots) is that you can ride a double tube if you want to have your sweet pea sit with you during the ride.
Even if you opt for night tubing, the whole park is illuminated in the dark to make it all worth your time and money! Don't want to huff and puff back up the mountain for another ride? Never fear: the magic carpet lift is here — well, there — to take you to the top. Just hop on the moving belt with your snow tube and enjoy the leisurely ride back up the mountain.
Finally, Hunter Mountain has some basic safety rules: 
Sit in snow tubes — you can't lie down
No ski boots
No running starts
No alcohol (save that for the après ski later)
Holiday Mountain, Monticello
Make your weekend all fun and games by going to the Holiday Mountain Ski & Fun to enjoy snow tubing to the fullest. A staple in the Catskills Region for decades, the park offers winter fun for all ages and levels of expertise but is especially great for little ones and newbies.
From skiing and snowboarding to sledding and snow tubing, there's a lot to do here, so we suggest beginning your visit early in the day.
Greek Peak Mountain Resort, Cortland
If your vacation takes you to Central New York, this is another excellent spot that you'll have to check out for a day of winter fun. The Greek Peak Mountain Resort offers everything you need — fun, excitement, relaxation, luxury, and delicious food. It's perfect for friends of all ages and features 54 trails, six aerial lifts, snowboarding, hiking, cross-country skiing, snowshoeing, horseback riding, and of course, a snow tubing center. 
Featuring 18 winter tubing lanes and lighting for night sledding, the Greek Peak Mountain Resort is definitely one to explore. Just don't forget to bring your camera — the park is stunning, and you'll likely want to snap a few memories.
West Mountain, Queensbury
Fun for the whole family and friends of all ages, West Mountain's popular tubing park is an absolute must when visiting the Big Apple. 
Nestled at the foot of the Adirondack Mountains, the park features four upper lanes and six lower lanes, which are all accessible by the moving magic carpet ride. This means that you won't have to worry about taking your tube back to the top — simply hop on with your snow tubing apparatus and let the belt magically take you uphill to the starting point. 
Prefer to go skiing? You can do that, too! Ride during the day or even at night under the stars. Get excited: The West Mountain Ski Area has upcoming renovations that are sure to be the talk of the town. 
Roundtop Mountain Resort, Lewisberry
This is another sledding destination that's outside of New York, but you'll find that it's well worth the drive. A favorite family attraction near Harrisburg, Pennsylvania, the Roundtop Mountain Resort in Lewisberry features up to ten large snow tubing lanes with runs that are over 800 feet long and a vertical drop of 80 feet. 
Waiting for the snow to fall before making the trip? There's no need, thanks to the resort's experienced snowmaking team. At the Roundtop Mountain Resort, you can always count on the best snow conditions in the region. Oh, and if you're bringing a tiny sledder with you, rest easy knowing that there are child-sized tubes, as well as a bunny slope, for safe sledding fun.
Honorable Mention: Campgaw Mountain, Mahwah
Ok, so this one isn't technically in New York — it's in NY's favorite neighbor, New Jersey.
Ready for some family-fun-lovin' adventure that's close to home? Grab your kids, pack the inflatable snow tubes, and hit the road to explore all that Campgaw Mountain has to offer. It's fun, easy, and better than sledding down just any old hill — Campgaw Mountain is a thrill that you have to experience at least once (or twice). 
Even better, a magic carpet lift is available for you to ride uphill. Choose between snow runs with varied levels of rollers and pitch-perfect for those who prefer leisure rides, as well as anyone looking to embrace their inner speed demon. 
Note:As with many of the other parks that we've listed, Campgaw Mountain is one that sells out quickly, so be sure to book online ahead of time to reserve a session.
The Final Word
The winter season may not be everyone's cup of hot cocoa, but when snow tubing is involved, there's no denying that it won't be a whole lot of fun. This beloved winter pastime is an activity that can make just about anyone fall in love with snowy weather — especially when it takes place in the Empire State!
Known for its diversity and culture, as well as its world-class restaurant and art scene, New York is a destination where dreams come true. But it's also an incredible place to go snow tubing. So if you're planning a trip up north, don't forget your favorite FUNBOY sled and check out the sledding hills we've listed above. 
Here at FUNBOY, we're on a mission to bring top-quality, luxe sleds to the masses. Whether you're a snow tubing newbie or a long-time pro, we've got just the snow tube for you!
Check us out today and experience the difference that a sled from FUNBOY can make on your next snowy adventure. From unbelievable comfort to giggle-worthy designs, we're confident that you'll fall in love with what we have to offer.
And the best part? Our sleds are inflatable, making them easier than ever to pack in a travel bag. With the Inflate Anywhere Foot Pump, we basically bring a whole new meaning to "get pumped." What's not to love?
Grab your tube, your family and friends, and get ready for an adventure unlike any other. 
Sources:
Catskills Region | New York State Office of Parks, Recreation and Historic Preservation
The Snow Park at Maple Ridge | Maple Ridge Center